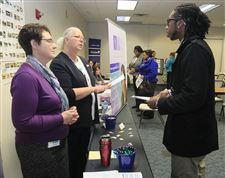 .
THE BLADE/JETTA FRASER
Enlarge | Buy This Image
Jami Zeltner, left, and Debbie Straughan, who work in human resources at APS medical billing company, talk with Edwin Clayborne of Toledo during a job fair at Stautzenberger College in Maumee. A Stautzenberger official said 352 job-seekers attended Friday's job fair to speak with representatives of about 30 companies.
Guidelines: Please keep your comments smart and civil. Don't attack other readers personally, and keep your language decent. Comments that violate these standards, or our privacy statement or visitor's agreement, are subject to being removed and commenters are subject to being banned. To post comments, you must be a registered user on toledoblade.com. To find out more, please visit the FAQ.