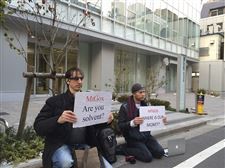 Bitcoin trader Kolin Burges, right, of London and an American counterpart hold signs during a sit-in in front of the office tower housing Mt. Gox in Tokyo. Reports say the major bitcoin exchange suffered catastrophic losses, handing the virtual currency a setback in its quest for legitimacy.
ASSOCIATED PRESS Enlarge
TOKYO — The sudden disappearance of one of the largest bitcoin exchanges only adds to the mystery and mistrust surrounding the virtual currency, which was starting to gain legitimacy beyond the technology enthusiasts and adventurous investors who created it.
Prominent bitcoin supporters said the apparent collapse of the Tokyo-based Mt. Gox exchange was an isolated case of mismanagement that will weed out "bad actors." But the setback raised serious questions about bitcoin's tenuous status and even more tenuous future. At least one supporter said the blow could be fatal to bitcoin's quest for acceptance by the public.
A coalition of virtual currency companies said Mt. Gox went under after secretly racking up catastrophic losses. The exchange had imposed a ban on withdrawals earlier this month.
By Tuesday, its Web site returned only a blank page. The collapse followed the resignation Sunday of chief executive officer Mark Karpeles from the board of the Bitcoin Foundation, a group seeking wider use of the exotic currency.
Since its creation in 2009, bitcoin has become popular among tech enthusiasts, libertarians, and risk-seeking investors because it allows people to make one-to-one transactions, buy goods and services, and exchange money across borders without involving banks, credit-card issuers, or other third parties. Criminals like bitcoin for the same reasons.
For various technical reasons, it's hard to know just how many people worldwide own bitcoins, but the currency attracted outsize media attention and the fascination of millions as an increasing number of large retailers such as Overstock.com began to accept it.
Speculative investors have jumped into the bitcoin fray, sending the currency's value fluctuating wildly in recent months. In December, the value of a single bitcoin hit an all-time high of $1,200. In the aftermath of the Mt. Gox collapse Tuesday, one bitcoin stood at around $470.
Central banks across the globe have been hesitant to recognize it as a form of money.
Guidelines: Please keep your comments smart and civil. Don't attack other readers personally, and keep your language decent. Comments that violate these standards, or our privacy statement or visitor's agreement, are subject to being removed and commenters are subject to being banned. To post comments, you must be a registered user on toledoblade.com. To find out more, please visit the FAQ.