Yellen tells Senate Fed is monitoring economic data
2/28/2014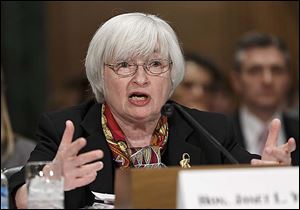 Fed Chairman Janet Yellen said she would reconsider stimulus plans if she decided weather did not explain soft economic results.
WASHINGTON — Janet Yellen, the Federal Reserve chairman, said Thursday that the Fed was looking closely at a recent run of disappointing economic data as it considered how quickly to retreat from its economic-stimulus campaign.
Ms. Yellen said cold weather had contributed to the slowdown, but that the Fed had not been able to determine whether the cold was a full explanation.
"What we need to do, and will be doing in the weeks ahead, is trying to get a firmer handle on exactly how much of that soft data can be explained by weather and how much is due to a softer outlook," Ms. Yellen told the Senate Banking Committee.
Ms. Yellen cited the slow pace of job growth in December and January, weakness in the housing market, and disappointing retail sales and industrial production.
Investors read the remarks as offering at least a hint that the Fed might slow or suspend a pullback in its economic stimulus if the economy faltered.
The remarks were a shift from Ms. Yellen's testimony two weeks ago. But Ms. Yellen did not change her description of the Fed's plans, saying that the central bank was still quite likely to keep cutting back on its monthly purchases of Treasuries and mortgage-backed securities.
Sen. Charles Schumer (D., N.Y.) asked Ms. Yellen whether the Fed would reconsider if it concluded that the cold weather was not the whole problem.
"Certainly we would be open to reconsidering it," Ms. Yellen responded, "but I wouldn't want to jump to conclusions."