UNEMPLOYMENT
Ohio's jobless rate dips to 6.5%, below national average
3/22/2014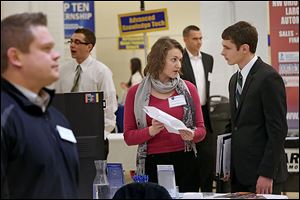 United Way of Greater Toledo's Toni Shoola, center, talks with Louis Szilagyi during a job fair held at the University of Toledo. Ohio's unemployment rate dropped to 6.5 percent, according to a report released on Friday.
COLUMBUS — Ohio's unemployment rate for February again dropped below the national average, the latest economic news seemingly turning Gov. John Kasich's way.
The state's unemployment rate dropped four-tenths of a point to 6.5 percent, according to numbers released Friday by the Ohio Department of Job and Family Services. That compares to a national rate of 6.7 percent, up a tick from January.
But the drop seemed to conflict with a separate survey of employers conducted by the U.S. Department of Labor that found the number of Ohio jobs decreased by 4,600 last month. ODJFS spokesman Ben Johnson said that doesn't necessarily mean frustrated job-seekers have stopped looking.
"The business surveys for February showed some volatility in some sectors in the first part of 2014," he said. "In construction in January, there were 8,000 additional jobs. In February, there were 8,100 fewer construction jobs. That volatility is more of a factor of seasonal modeling and less of a reflection of what's happening on the ground."
The big one-month percentage decline in Ohio's unemployment picture marked the state's lowest rate since June, 2008, when it was 6.4 percent.
In an election year, the point at which the state and national lines cross on the unemployment-rate graph takes on added symbolism. In October, it was bad news for Mr. Kasich when Ohio's 7.5 percent rate surpassed the national average for the first time since he took office in January, 2011.
The latest number comes on the heels of the federal government's recent upward adjustment to its prior job-creation estimates for Ohio. Numbers for January released this week showed that Ohio, with 16,700 more jobs, trailed only Texas, with 33,900 new jobs, nationally for the month.
"Ohio unemployment is at its lowest point in over five years," said Chris Schrimpf, the Ohio Republican Party's spokesman. "Over 230,000 private-sector jobs have been created since [Governor Kasich] took office. The economy has turned dramatically since the governor took office compared to the failed administration of Ted Strickland."
The readjusted numbers undermine the narrative of Democrats generally and Mr. Kasich's chief Democratic foe, Cuyahoga County Executive Ed FitzGerald, specifically that Ohio's job growth had stagnated to 45th in the nation last year.
"The fact remains that John Kasich's agenda works only for the most well-off Ohioans," FitzGerald campaign spokesman Daniel McElhatton said Friday. "His ideas don't work for the middle class and those families living paycheck to paycheck who are just one bad day away from financial disaster.
"Governor Kasich's schemes give thousands in tax cuts to those making more than $250,000 while shifting tax increases to working families who can least afford them."
Mr. Kasich recently proposed another round of income-tax cuts, this time 8.5 percent across all brackets, with some new breaks for lower and middle-income families. These would be mostly offset by increases in taxes paid by smokers, shale oil and natural gas drillers, and larger businesses.
The federal employment survey, separate from the unemployment numbers, showed Ohio's seasonally adjusted, nonfarm employment declined by 4,600 jobs to 5,284,600 jobs. Among goods producers, manufacturing gains were more than offset by losses in construction, mining, and logging. The private-service sector saw gains in educational and health services, trade and transportation, and professional and business services.
Government jobs, meanwhile, were down again, with local governments providing the biggest hit.
Still, the unemployment survey showed the number of people without jobs dropped 18,000 in February to 377,000.
The Kasich administration noted that the federal job-creation numbers recently revised for Ohio showed the state ranked fifth in the nation in job creation since Mr. Kasich took office and seventh over the last year from January, 2013, to the same period this year.
Job numbers are periodically revised by the Bureau of Labor Statistics based on employers' paid unemployment compensation taxes, considered a better reflection of the job market than the monthly business surveys.
From February, 2013, to February, 2014, nonagricultural farm employment rose by 50,000 jobs, according to the business survey.
Contact Jim Provance at: jprovance@theblade.com or 614-221-0496.