BUSINESS BRIEF
Bakery to shut down facility in North Toledo
7/18/2014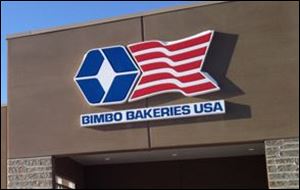 Bimbo Bakeries' North Toledo location is closing in September.
A North Toledo bakery distribution center will close later this year, eliminating 34 jobs.
Bimbo Bakeries USA confirmed Thursday it plans to close its Jason Street facility in September as part of an effort to consolidate shipping.
"Human relations representatives met with associates to discuss the closure, as well as share resources available to assist associates in this time of transition," the company said in a statement. "This closure will not have an impact on our customers and consumers or the availability of [our] products."
Bimbo Bakeries USA is part of Grupo Bimbo, a large Mexican-owned baking company.