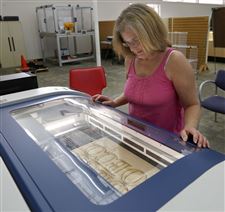 Kim Eckhart uses a laser machine to make a sign at the BiG Fab Lab in the Woodland Mall in Bowling Green. Ms. Eckhart owns a candy and craft shop in the mall, and as one of 250 members of the lab, she can use tools that make her job easier.
THE BLADE/LORI KING
Enlarge | Buy This Image
BOWLING GREEN — Mark Bowlus is the kind of friend you go to with your what-ifs and your million-dollar ideas.
"I'm a sucker for those types of projects, and I was spending more time on that than I should have been," he said, somewhat sheepishly. "I was getting to a point where I was a little frustrated. I wanted to help them but knew my time was limited."
After a lot of thought, a lot of meetings, and a lot of research, the self-employed mechanical engineer decided to create a space where tinkerers, inventors, and entrepreneurs could share tools, skills, and advice.
That concept has grown into the BiG Fab Lab, a 16,000-square-foot business laboratory in the Woodland Mall in Bowling Green. The for-profit workshop opened in April and requires a membership to use the equipment.
It's a near dreamland for do-it-yourselfers. In addition to workbenches and handtools, there's a full wood shop, potter's wheels and electric kilns, a vinyl cutter, a photography studio, and 3-D printer. A metal shop is in the works. They plan to add a 3D scanner. There's even a $45,000 laser engraver that can precisely cut through wood and etch metal and glass.
In the front of the shop is a small retail area where members can sell and test-market their goods.
"I think a lot of us are primed right now for this," Mr. Bowlus said. "We all have an idea rattling around that we'd like to prototype and develop. One of the unique things you can do here is develop the idea, collaborating with other people who have information and knowledge that you don't have."
The makerspace concept is relatively young, being driven in part by creative technology such as the greater accessibility of 3D printing. It also has been helped by the success of crowdfunding and Internet entrepreneurship.
Makerspaces have popped up in cities nationwide, including Ann Arbor, Columbus, and Milwaukee. The specifics vary, but at their core, makerspaces provide members with a collaborative environment and an array of tools. Think of them as part workshop, part classroom, part business incubator.
In Bowling Green, Mr. Bowlus has attracted members including crafters, ceramic artists working toward opening their own studio, retirees who like to build and design things for fun, people working on developing products to sell, and those who just don't have the space or funding to equip their own workshop but like having access to tools.
Dave Johnston, a Bowling Green software developer, couldn't wait to join the BiG Fab Lab. A woodworking hobbyist, he figured he'd use the wood shop but more often than not has found himself using the 3D printer and the laser cutter. He recently designed a part to fix a pond filter that broke last year.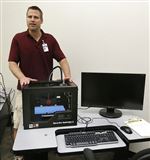 Director Mark Bowlus shows off a 3D machine in the BiG Fab Lab. The self-employed engineer created the for-profit lab and opened the 16,000 square-foot space in April.
THE BLADE/LORI KING
Enlarge | Buy This Image
"I cut it on the laser, dropped it in, and it was perfect," he said. "I don't even know where I would have gotten that part. I'm not sure I could have. Here, I could just go over and print a replacement."
Part of the draw is the community and the inspiration that comes from being surrounded by creative people.
"The maker movement is definitely geared for that," Mr. Johnston said. "Brainstorming about how to solve a problem that one person is having becomes everybody's problem. People chip in with their ideas and how to advance it even further than you could have done by yourself."
Another member, Kim Eckhart, runs a candy and craft store in the mall. She often uses the laser cutter to make signs that she incorporates into her crafts, a major time saver versus cutting them out by hand.
The Columbus makerspace, called the Columbus Idea Foundry, claims to be the largest and most active in the country.
It's also profitable — founder and chief executive officer Alex Bandar quit his job as an engineer to run the Idea Foundry full time.
That's not to say it was easy.
"I think there are few businesses more difficult to run," Mr. Bandar said in a recent phone interview. "Not just for the host of challenges, but there are no previously successful examples for this kind of business."
Finding success
Mr. Bandar opened the Idea Foundry in 2008, but it has only recently swung to profitability. He spent several years putting all his disposable income and most of his free time into the project, going so far as calculating what food would provide the best nutrition for the lowest cost in the least amount of time. (He settled on Bush's baked beans.)
But with 250 members, a handful of employees, and a recently renovated building in an up-and-coming neighborhood, the Idea Foundry is proving successful.
Mr. Bandar is trying to reach as wide a group as possible, by hosting date nights and speaking at Rotary meetings.
About half his members, who pay $35 a month plus tool-usage fees, are running small businesses and another quarter have plans to do so.
"We're seeing this little money occurring under our roof, where people will trade service or pay each other for services," he said.
Some take commissioned projects. One member even has a business exporting wooden toys to Asia.
On a mission
It's not just about making money, though. Mr. Bandar sees it as a mission to restore the community's ability to create.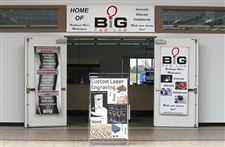 Makerspaces are popping up in various cities around the nation, including Ann Arbor and Columbus.
THE BLADE/LORI KING
Enlarge | Buy This Image
With fewer schools offering full-on shop class, he said people don't have as many outlets to learn to make things. Even as a professional engineer, he felt he didn't have a creative outlet.
Mr. Bowlus can relate. After graduating from Ohio State University with a degree in mechanical engineering, he found success in the corporate world, doing machine design and automation. But after two decades, it wasn't fulfilling. He usually wasn't in a lab or a workshop; he was stuck in front of a computer.
He left his corporate job to start Bowlus ES&T, an engineering consulting business. The move helped get him back to being hands-on with his projects, and now he's running that business out of the BiG Fab Lab.
He believes there's a lot of employees at small, medium, and even large businesses that feel the way he did, and he thinks that the fab lab could provide that creative spark.
Since opening in early April, about 20 members have joined the BiG Fab Lab — on target with Mr. Bowlus' goal. He said he expects to need around 150 members to become profitable.
A regular membership costs $39 a month, and new members are required to pay for three months up front. After that, it's month-to-month.
There's also a surcharge on some tools, ranging from $5 an hour to use the woodshop to $35 an hour to use the laser engraver.
Total surcharge fees are capped at $125 a month.
One challenge to build successful makerspaces is that, by their nature, they're very capital intensive up front and have a slow payback.
Mr. Bowlus has gone around some of that by collecting older equipment from auctions and donations.
One of the metal lathes, for example, dates from 1940. No worries, said Jim Instone.
"That's still not as old as my lathe at home. My metal lathe I've got in my garage is 1929. You can still get parts for it on eBay," said Mr. Instone, a member who is helping set up the metal shop.
Another donation was a long-arm Singer sewing machine from 1960.
It's a colossal machine, a relic that looks capable of punching a needle through just about anything.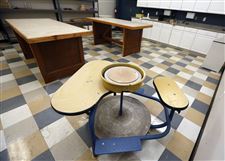 In addition to potters' wheels and electric kilns, the lab has workbenches and handtools, a wood shop, a vinyl cutter, a photography studio, a 3D printer, and much more.
THE BLADE/LORI KING
Enlarge | Buy This Image
At the BiG Fab Lab, it'll likely get used for leather and upholstery work.
"The guys that are into car restoration are really excited about that," Mr. Bowlus said.
Educational concept
Though the goal of the lab is to become profitable, Mr. Bowlus also wants to use it for the betterment of the community.
He's particularly interested in reaching schoolchildren, and has become a regular visitor to the office of Ann McVey, the superintendent of Bowling Green City Schools.
Ms. McVey, who said Mr. Bowlus has a sincere interest in education, is fully on board.
"You just get hooked on this concept," she said.
A number of area school districts joined together last year to apply for a grant through the state's Straight A fund that would have helped pay for equipment and allowed for school programming at the fab lab. They didn't win, but Ms. McVey said they plan to try again. Ideally, she would like to see students work in the space as part of their curriculum, with the school providing transportation to and from the fab lab.
"The kids need exposure so they know what's out there and what's available," she said. "They can get into this makerspace and not only use the tools and the equipment but also establish relationships with people who can talk with them about all of the different types of careers that are available out there."
Those kinds of partnerships, she said, are an untapped resource.
Mr. Bowlus wants to get children involved in any way he can. He's planning a Lego station where they can play and learn while their parents work, and he's hopeful that he can figure out a way to partner with schools.
"To think that just giving a tour, taking middle school kids into a manufacturing facility, is going to inspire them to go after a career in that area is crazy," he said.
"But if you can get the kids into a space like this where there are actual engineers working on development projects, and maybe the kids can get involved at some level, I think there's much more of an opportunity for the kids to be inspired."
Contact Tyrel Linkhorn at tlinkhorn@theblade.com or 419-724-6134 or on Twitter @BladeAutoWriter.
Guidelines: Please keep your comments smart and civil. Don't attack other readers personally, and keep your language decent. Comments that violate these standards, or our privacy statement or visitor's agreement, are subject to being removed and commenters are subject to being banned. To post comments, you must be a registered user on toledoblade.com. To find out more, please visit the FAQ.