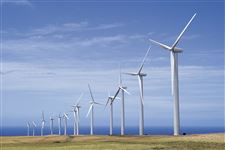 Ohio ranks second in the nation in clean energy jobs, according to a new report.
ASSOCIATED PRESS Enlarge
The number of American workers holding clean energy jobs will soon pass 600,000, and Ohio and Michigan are home to a large portion of the workforce, according to a report released Thursday.
The 2017 Clean Jobs Midwest report was compiled by Clean Energy Trust and Environmental Entrepreneurs, a non-profit group of business owners and investors. Job figures and economies for Ohio, Michigan, and 10 other Midwestern states (Iowa, Illinois, Indiana, Kansas, Minnesota, Missouri, North Dakota, Nebraska, South Dakota, and Wisconsin) were examined.
The Midwest added more than 30,000 clean energy jobs last year — a 5.41 percent increase from 2015 — to bring the region's total to 599,775. Such jobs include those in energy generation roles and those involved in the production and maintenance of hybrid and electric vehicles.
"These people are going to work every day with jobs in energy efficiency, solar, wind, geothermal, clean cars, manufacturing, and construction jobs," said Environmental Entrepreneurs spokesman Gail Parson. "There are twice as many people with clean energy jobs in the Midwest than computer programmers in the entire country."
Ohio experienced a 4.6 percent growth in clean energy jobs, adding 4,661. The Buckeye State ranks second in the region with 105,443 jobs, and leads the Midwest in clean energy manufacturing jobs.
Clean energy jobs grew six times faster than any other sector in the state. About three-quarters of these occupations are in energy efficiency. Ohio leads the Midwest with 8,719 solar energy jobs.
"Ohio is a hotbed for manufacturing, and therefor it's a real center for solar and renewable energy manufacturing," said Steve Peplin, CEO of Cleveland-based Talan Products. "If we're making a lot of cars in Ohio, the same supply base can make renewable energy parts."
Ohio continues to lead the way in solar, but has dropped off in wind. Wind farm development has slowed significantly since 2014 when lawmakers added language to a budget bill doubling the distance a turbine could go up from any property where the owner opposed construction.
The rule is the most restrictive in the country.
"Right now there are estimates saying the state is losing $4.2 billion because of the 2014 wind setback," Ms. Parson said. "It gets back to why policies matter so much, but the clean energy march is progressing."
Michigan is home to the third-most clean energy jobs in the United States, with 92,271, up 5.3 percent with the addition of 4,655. The state has over 28,000 jobs in advanced transportation, more than 40 percent of the region's share. Those jobs are split almost equally between hybrid and electric vehicles.
Protecting advancements made in fuel and car technology was mentioned by Ms. Parson as one of the areas of concern with President Donald Trump's administration.
"It's pretty clear the administration is threatening the clean car program and weakening fuel efficiency," she said. "There are about 65,000 people in the region employed in clean cars; Michigan leads the pack. Weakening those fuel standards would harm those workers, but also consumers who are saving at the pump."
Erik Birkerts, CEO of Chicago's Clean Energy Trust, said he is keeping an eye on appropriations at the Department of Energy.
"When you see how those dollars are allocated, I think the programs under energy efficiency and renewable energy at the DOE are still at risk," he said.
The full report can be accessed at cleanjobsmidwest.com.
Contact Jay Skebba at jskebba@theblade.com, 419-376-9414, or on Twitter @JaySkebbaBlade.
Guidelines: Please keep your comments smart and civil. Don't attack other readers personally, and keep your language decent. Comments that violate these standards, or our privacy statement or visitor's agreement, are subject to being removed and commenters are subject to being banned. To post comments, you must be a registered user on toledoblade.com. To find out more, please visit the FAQ.