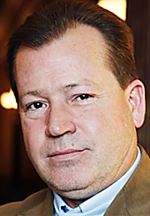 Richardville
AP Enlarge
Michigan Senate Majority Leader Randy Richardville (R., Monroe) has a fairly tough tightrope to walk. Democrats are the least of his worries; they hold only a woeful dozen of 38 seats in the Legislature's upper house.
But Mr. Richardville is constantly pulled between Republican Gov. Rick Snyder, who usually tries to make policy based on rational analysis and real data, and GOP colleagues who are either Tea Party fanatics or fearful of primary challenges from them next year.
On two key recent issues, Mr. Richardville has utterly failed to lead, with potentially disastrous results for the state. The first involved expanding Michigan's Medicaid program: After months of dithering, the Senate followed the House in signing up for a program that will give 320,000 working-poor citizens health-care benefits for what will never be more than a tiny fraction of cost to the state.
But when right-wing senators refused out of spite to give the bill immediate effect, Mr. Richardville declined to press two senators to switch their votes. That cost Michigan's working poor three months of health insurance, and the state lost $600 million in federal aid.
Now the issue is Common Core education standards. This sensible list of priorities is designed not — as the paranoid believe — to surrender local control to the federal government, but to ensure better education and uniform goals that will enable Michigan students to compete with those elsewhere.
Despite opposition from Tea Party extremists, the Michigan House approved Common Core last week. Once lawmakers understood the issue, Most Republicans voted yes.
But it's not clear when, or if, the Senate will vote on these standards. Senator Richardville said the vote is not on his agenda, adding: "We are going to do our job in the way we see fit."
The senator's constituents should let him know they think it would be more than fit to have the Senate adopt the Common Core standards as soon as possible. That would send a clear message to business that Michigan is serious about producing a work force that will be able to fill the jobs of the fast-approaching future.
Guidelines: Please keep your comments smart and civil. Don't attack other readers personally, and keep your language decent. Comments that violate these standards, or our privacy statement or visitor's agreement, are subject to being removed and commenters are subject to being banned. To post comments, you must be a registered user on toledoblade.com. To find out more, please visit the FAQ.