EDITORIAL
Christmas 2013
The Christmas spirit, at its core, allows us to make unconditional gifts of joy and love to others
12/24/2013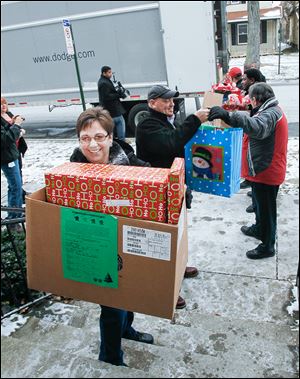 Volunteers unload a truck of holiday presents for children at Family House in Toledo.
Every year around Christmas, Rick Molnar puts on his Santa Claus suit and walks the wide hallways of Ebeid ProMedica Hospice next to Flower Hospital to visit terminally ill patients.
Some of them are sleepy and may not be able to talk. Yet Mr. Molnar says: "They all know who Santa Claus is. It just give me a lot of joy to see their eyes light up. It's a great experience for me."
In his own way, the 56-year-old marketing professional helps embody the Christmas spirit in Toledo. At its core, that spirit brings unconditional gifts of joy and love to others.
At this time of year, as the dark days begin to get a bit lighter, Christians mark the birth of Jesus Christ, whom they celebrate as the light of the world, God's human face, the Word made flesh, and a gift of radical love to be emulated by others.
Sometimes it's hard to keep that message alive amid the commercial frenzy that now starts in September, nips at the heels of Halloween, appears to be erasing Thanksgiving, and crashes on Dec. 26 with day-after markdowns.
Much of what is called the Christmas season is actually Advent, which begins four Sundays before Dec. 25. Liturgical Christmas in the west begins on Christmas Eve after sunset and lasts to the traditional feast of the Epiphany on Jan. 6.
In an increasingly diverse, multireligious society, some believers have turned the joyful season into an annual taking of umbrage in bogus culture wars. This year's battle involves arguments over whether Santa, a mythical figure based on St. Nicholas, a 4th century bishop in Asia Minor; Britain's Father Christmas, and the Dutch Sinterklaas, are white or whether they can also be black.
Yes, they can. And so can Jesus, whose Nordic features in some popular art could not possibly have belonged to a 1st century Jew. True followers know that Jesus belongs to everyone, and that this faith can be expressed symbolically in art. If they are Christian, they should love their perceived enemies.
In reflections this year, the Rev. Jim Bacik, a former pastor of Corpus Christi University Parish in Toledo, advises: "The Christmas spirit prompts us to see those who do not share our faith as people of good will, encompassed by God's saving grace, brothers and sisters sustained by the Word, even if anonymously.
"At the same time, we thank God for Christ, who teaches us that God loves us unconditionally as sons and daughters, apart from our achievements and merits. Recognizing this truth can free us from unnecessary anxiety and enable us to experience true Christmas joy."
Merry Christmas. Happy holidays. May God bless us all.