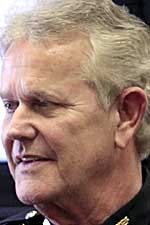 Tharp
Lucas County Sheriff John Tharp said Wednesday that he wants a new jail built within two years. That timetable might seem unrealistic, but the county board of commissioners should put this project on a fast track. Policy — not politics — should drive the process.
The need for a new jail is glaring. With a capacity of 342 beds, the downtown jail generally holds more than 450 prisoners, forcing dozens of inmates to sleep on cots in day-room areas.
The cramped, outdated nine-level building precludes the efficient direct supervision of large groups of inmates. It is plagued by leaky pipes and a leaky roof, elevators that break down, cracked tiles where roaches can breed, and visiting areas that lack privacy.
Siting, financing, and building a jail typically takes at least three years — and county officials need to get this right. Still, commissioners don't need further study or debate to show the need to replace a jail that is inefficient, inhumane, and an embarrassment to Lucas County.
The poorly designed building requires roughly 25 percent more staff than a more-efficient one would. Nor can the 37-year-old jail handle the growing mental health needs of today's jail inmates.
A new jail would require 526 beds to handle current populations, including classification and maintenance needs, architect consultant Andrew Cupples told The Blade's editorial board Wednesday. But the county will need as many as 624 beds to handle future populations, even with mental health placements and other diversion programs, he said.
A modern jail would put visiting, recreation, and medical areas in each housing unit. It would use video technology for arraignments and possibly visitation.
Criminal justice policies, not crime, will drive future jail populations. Practically all Lucas County jail inmates are pretrial detainees who have been charged with a crime but not convicted.
County Commissioner Carol Contrada said the jail study group plans to have site recommendations by June. A modern, single-level building would probably require a site of several acres.
In the meantime, the county must continue to find innovative ways to reduce the jail population, making alternative placements and shortening the time newly convicted prisoners spend in jail before they move to a state prison. Under a federal court order, the jail reported 6,600 mandatory releases last year.
In building a new Lucas County jail, commissioners must act with urgency and a commitment to get the job done as quickly as possible.
Guidelines: Please keep your comments smart and civil. Don't attack other readers personally, and keep your language decent. Comments that violate these standards, or our privacy statement or visitor's agreement, are subject to being removed and commenters are subject to being banned. To post comments, you must be a registered user on toledoblade.com. To find out more, please visit the FAQ.