FEATURED EDITORIAL
Thinking through the levies
11/2/2016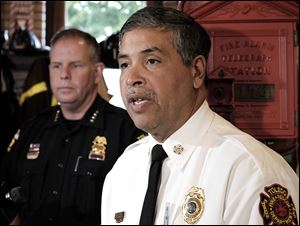 Toledo Police Chief George Kral, left, and Fire Chief Luis Santiago discuss the city's ballot issue in September. If it fails, hundreds of police officers and firefighters could lose their jobs.
Toledo and Lucas County residents face a series of levy issues in this election — too many, really.
All are worthy, but perhaps all are not equally worthy to every voter. Each citizen will have to determine his or her own priorities. But at stake are whether the region remains at the current level of public safety, whether child-care authorities are able to keep providing a safety net for the children who fall into their care, and whether we uphold our single finest public institution in Lucas County — our library.
It's important to acknowledge that some voters are annoyed that so many funding issues are on the ballot and that a few of the levies on the ballot now don't even expire until the end of 2017. Where is the compassion for the average taxpayer? Not every voter will feel he can say yes to everything.
But, without public backing on some of these issues, the people of the city — those same beleaguered voters and payers of property tax — could suffer immeasurably.
Click here to read more Blade editorials
● Indeed, the city of Toledo's request for Toledoans to vote FOR ISSUE 2, the 0.75-percent temporary income tax, is vital. The ¾ percent tax, as it's widely known, is projected to generate $56 million to $57 million for the city's general fund. Without it, a worst-case scenario could mean laying off 260 police officers and 211 firefighters and closing eight fire department stations. Police would not be able to respond to most noninjury complaints (like noise or animal problems). Cops would be pulled from the schools, and the Gang Task Force would likely be abolished. It would be a fiasco.
Even a best-case scenario means substantial layoffs and first responders taking longer to respond to emergency calls. Remember that firefighters do not just battle fires in Toledo. They are emergency medical technicians who come to the aid of citizens whose lives and health are at risk.
The Rev. James Willis, pastor of St. Paul Missionary Baptist Church, put it succinctly when he said, "It's not a threat. It's not a scare tactic. Those are just the facts."
He's right. And this is not new money, not a tax increase. It is our hope that voters will agree and cast their ballots FOR ISSUE 2.
● The Lucas County Children Services' executive director has underscored that her agency needs residents to vote FOR ISSUE 20 so the agency can keep providing for the children who fall into its care. Robin Reese, who took the helm of a poorly managed agency and is turning it around, has said that there is a direct link between the heroin and opioid epidemic in our community and the increased number of children who find themselves in the hands of the agency. Children services has taken in about 100 more children this year compared to the number it took in by about this time last year, and this is directly because of the drug epidemic.
Children services is asking voters to approve a total of 1.8 mills, which includes a 1.4-mill levy that expires next month, and it is also asking for an additional 0.4 mills. This would cost the owner of a $100,000 home a total of $56.88 annually, or a mere $4.74 a month.
Surely residents will agree to support the measure. The agency has a credible new leader and must continue to build its board with people of standing in the community, for it has the weighty responsibility of providing for bewildered children who, through no fault of their own, face dire circumstances and need responsible adults to rescue them. Citizens are urged to vote FOR ISSUE 20.
● Lucas County Emergency Services also has a ballot request: It is asking voters to approve a five-year, 0.7-mill property tax levy that also expires at the end of 2016. This involves the countywide 911 system in which dispatchers, and others paid by jurisdiction members, receive emergency calls and dispatch first responders.
This measure would cost about $21.44 a year for the owner of a $100,000 home for technology improvements, equipment upgrades, and maintenance for emergency services and communications systems. Of course, residents want this system to always be up to par. Residents are asked to vote FOR ISSUE 19 to back the 911 public safety communication system.
● The Toledo-Lucas County Public Library is one of this area's jewels — one that is highly valued by the entire community. Library officials are asking voters to approve a renewal and an increase of a five-year, 3.7-mill levy, on which it will begin to collect in 2018. The library says its request includes an existing 2.9-mill property tax measure that expires in December, 2017, and an additional 0.8-mill increase. The annual tax bill for this measure would jump by $29.31 from the current $87.50 — for a total of $116.81 annually — for the 2.9-mill tax.
The funding would allow the library to expand its hours, build its collections, keep current staffing and service, and ensure the continuation of general operations. Everyone uses the library, from schoolchildren who do class projects there, to senior citizens who do occasional research. Anyone can get help from library staff. Our public library system is one of the best in the nation, and it is a place (all its branches) where age, race, and socioeconomic status make no difference. Thus, citizens are asked to vote FOR the Toledo-Lucas County Public Library's ISSUE 22.
● The amount of money it would annually cost voters to support Imagination Station's levy is about what many pay for a cup of designer coffee. The downtown Toledo science center hopes voters back its five-year, 0.17-mill renewal levy for operations and maintenance, effective in January, 2018. Imagination Station is a delightful place to go. Fun and education are combined to benefit young visitors and older ones. It is widely used by schools and young families. It is run with attention to both expense and innovation. The cost to renew the levy? Only $5.21 annually. It is a bargain all the way around. It is certainly commendable to vote FOR ISSUE 21.
●The Toledo Zoo wants voters to approve its five-year operation levy, which expires in December. The zoo has decreased its request from the current 0.85-mill property levy to 0.75 mills, which would cost a $100,000 home's owner $22.97 a year. The funding would permit zoo officials to cover day-to-day maintenance and operation expenses. The Toledo Zoo has been rated No. 1 nationally and is wildly popular regionally. It is highly likely that county residents will vote FOR ISSUE 23.
● While the U.S. economy thrives on the automobile industry, not everyone has a vehicle to climb into when it is time to go somewhere. Many Americans use public transportation, and in Toledo, that means taking a bus supplied by TARTA, the Toledo Area Regional Transit Authority. TARTA is asking voters in Lucas and Wood counties to approve a measure that would fund all of its operations, except for payments on bonds and debts. TARTA's 10-year, 1.5-mill levy, expires next year and would begin collections in 2018. It would cost the owner of a $100,000 house $45.71 a year. TARTA should be better than it is — more innovative, environmentally sound, and economical. But the city needs TARTA. Poor people, elderly people, and people unable to drive due to infirmities and disabilities need the community to vote FOR ISSUE 18.
This has been an exhausting and contentious political year. Voters are tired, and many will look at this list and insist that hard choices must be made. Let's not let the dramatic national and state races distract us from the needs of our own community.