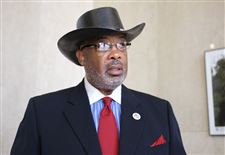 Toledo City Councilman Larry Sykes is not the right person to lead the council.
THE BLADE/DAVE ZAPOTOSKY
Enlarge | Buy This Image
In January, Toledo City Council will elect a new president when the term-limited current president Steven Steel leaves office. Toledo City Council needs someone who has earned the community's respect and someone who could step into the job of mayor if necessary. Councilman Larry Sykes is not that person.

BEHIND THE EDITORIAL: Reflecting on the 2017 election
Jockeying for the council president's seat has already begun, and Mr. Sykes is among those considered a contender. The best candidates for the job are two council members who will not even be considered because they are not Democrats — Sandy Spang and Tom Waniewski.
Ms. Spang was the top vote-getter in a field of 12 candidates in this month's election for at-large council seats. Mr. Waniewski articulated a thoughtful and ambitious agenda in the race for mayor before being eliminated in the primary. Either would be a strong leader for council.
But Democrats control council and the mayor's office, and they will almost certainly choose someone from their own party. Remember, however, that the council president is one step away from the mayor's seat, as Toledo was reminded with D. Michael Collins' death in 2015.
That the council president could ascend to the 22nd-floor mayor's office should motivate Democrats to do better than just elect another Democrat. They must tap someone with skill to actually lead, and potentially, serve as mayor.
Mr. Sykes demonstrated recently that he is not suited for the job by getting arrested after an altercation with a local activist at a campaign event.
Many also still remember the lack of integrity Mr. Sykes displayed when he accused Toledo police in 2014 of racially profiling him during a traffic stop. An internal investigation into Mr. Sykes' complaint revealed that police were justified in stopping his car, which had no front license plate and a covered back license plate, contradicting what he had claimed publicly.
Click here to read more Blade editorials
Mr. Sykes lacks the moral authority needed to either lead the council, or step in to the mayoral office. He is, at best, an interesting gadfly.
City council needs a president whose integrity and temperament are above reproach and who will represent the whole city — that means, preferably, an at-large councilman. Ideally, the president would be wise, pragmatic, and a bridge-builder. That is not Larry Sykes. The idea of him as our mayor is bone-chilling.
Any other Democrat would be preferable to Mr. Sykes for president of council.
Guidelines: Please keep your comments smart and civil. Don't attack other readers personally, and keep your language decent. Comments that violate these standards, or our privacy statement or visitor's agreement, are subject to being removed and commenters are subject to being banned. To post comments, you must be a registered user on toledoblade.com. To find out more, please visit the FAQ.