More horsepower to the Ford Motor Co. if the Bullitt Mustang pays off for them.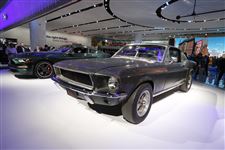 At left, a limited-edition 2019 Ford Mustang Bullitt, based on the Mustang GT, built to commemorate the 1969 film "Bullitt" starring Steve McQueen.
The Blade/Jetta Fraser
Enlarge | Buy This Image
In what could be an entry in a book about how one should never underestimate the nostalgic appeal of American cars in movies, Ford is rolling out a version of the Mustang GT inspired by the 1968 movie Bullitt.
For the uninitiated, there is a deep well of love among lovers of the Mustang for one Mustang in particular — the 1968 Fastback driven by Steve McQueen in Bullitt.
Click here to view more Blade editorials | Check out the Behind The Editorial series
In this movie, McQueen chases bad guys around San Francisco in his stripped-down, yet hot-rodded dark green Mustang. A chase scene you can easily find on YouTube lasts a long time and, miraculously, no pedestrians were killed filming it.
Ford says this is a major opportunity because this is the 50th anniversary of the movie.
This is now the third time Ford has produced a tribute Bullitt Mustang.
The Mustang GT looks like the 1968 Mustang Fastback in the same way that The Dark Knight looks like the Batman of our childhood comic books.
So how do we know it's supposed to be inspired by Bullitt? It has a Bullitt logo on the trunk in place of the standard GT ornament. (There is no hood ornament on the car.) It has understated badges and trim, it's green, and it has a cue ball on the stick shift.
Also Ford tweaked the Mustang GT's 5.0-liter V-8 and the exhaust to make it sound more like Bullitt's car.
We do not yet have the price of the limited-edition 2019 Ford Bullitt Mustang, although the base GT starts at about $35,000. Like all Mustangs, the Bullitt will be built at Ford's Flat Rock Assembly Plant, about 40 miles north of Toledo. That's a good thing.
Ford showed off its latest tribute car at the North American Auto Show in Detroit. Of just as much interest, was that Ford found the original 1968 Mustang Fastback that Steve McQueen and put it on display.
If you can't afford a Bullitt Mustang, be patient. At the rate it's been making throwbacks, Ford should have another one on the market in eight to 10 years.
Follow @BladeOpinion on Twitter.
Guidelines: Please keep your comments smart and civil. Don't attack other readers personally, and keep your language decent. Comments that violate these standards, or our privacy statement or visitor's agreement, are subject to being removed and commenters are subject to being banned. To post comments, you must be a registered user on toledoblade.com. To find out more, please visit the FAQ.