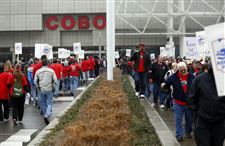 Brian Sims, UAW Local 12 Committeeman, leads a demonstration outside of the Cobo Center with about 200 members of UAW Local 12 to draw attention to Fiat Chrysler's decision to outsource some trucking work that had previously been done by UAW in Toledo.
The Blade/Amy E. Voigt
Enlarge | Buy This Image
United Auto Workers Local 12 was in the right when it took its grievance public against Fiat Chrysler Automobiles NV at the Detroit Auto Show last weekend.
And last week's guilty plea to corruption charges by a top company executive should have clarified Fiat's thinking.
Click here to view more Blade editorials | Check out the Behind The Editorial series
At least 300 Local 12 members boarded buses and drove their own cars to Cobo Center to wave picket signs, disrupting the happy hoohah between the automakers and their customers.
The issue is that Fiat Chrysler shut down a Chrysler truck terminal serving the Toledo Jeep Assembly Plant under extremely vague and suspicious circumstances. Eighty-eight UAW members are losing their jobs.
Chrysler flatly asserts that it negotiated for two years to close that truck terminal.
But that was shocking news to Local 12 President Bruce Baumhower. He didn't know anything about it until Fiat Chrysler filed its federal WARN Act notice last October — the deed was already done, the work outsourced.
UAW's contract with Chrysler says the company can't just shut down a truck terminal and hand those jobs over to a nonunion contractor without negotiation — something Local 12 has always shown itself willing to do in the best interests of Chrysler and the work force.
Here's a challenge for Fiat Chrysler: If you really negotiated for two years with UAW, prove it. With whom did you negotiate? Show us, or at least Mr. Baumhower, the signed agreement with the UAW official who signed off on the outsourcing.
Local 12 members have every right to be suspicious about how this came about.
A corrupt union official in Detroit, the union's vice president for Chrysler, sold out his Local 12 members in exchange for payments from the company. That official was indicted, as was his wife. He died. She's expected to plead guilty.
On Monday, Alphons Iacobelli, 58, who was Fiat Chrysler's vice president of employee relations, admitted he paid a $262,000 mortgage for that official and his wife, and made other payments for UAW leaders using Fiat Chrysler funds. Iacobelli faces a statutory maximum of eight years in prison and restitution of $835,000.
Iacobelli is the third person to plead guilty in the probe.
The stench of corruption from UAW and Fiat Chrysler can be detected here in Toledo.
Over the years, the UAW has been known for two things — being a "clean," uncorrupt union and being a pragmatic, cooperative union. Both legacies are now at risk.
Who negotiated away those 88 Toledo jobs, in violation of a contract, and for what price?
Follow @BladeOpinion on Twitter.
Guidelines: Please keep your comments smart and civil. Don't attack other readers personally, and keep your language decent. Comments that violate these standards, or our privacy statement or visitor's agreement, are subject to being removed and commenters are subject to being banned. To post comments, you must be a registered user on toledoblade.com. To find out more, please visit the FAQ.