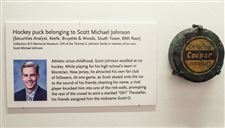 This 2015 photo provided by the National September 11 Memorial & Museum shows a photo of Scott Michael Johnson in a display at the museum in New York.
ASSOCIATED PRESS Enlarge
For some of those working in the New York City medical examiner's office, the events of 9/​11 are relived constantly. It cannot be otherwise when their task, nearly 17 years after the attacks on the World Trade Center, is to put names to unidentified remains.
Their expertise in forensics is coupled with the patience of Job. Days, weeks, months, a year or more may go by without a breakthrough, and then ... they're suddenly able to tell a family that remains of a loved one have been found.
Click here to view more Blade editorials

Last week, the city announced the identification of Scott Michael Johnson, 26, a securities analyst who worked on the 89th floor of the south tower, the second of the two towers hit by hijacked planes.
It was the first such announcement in nearly a year, made possibly by advances in DNA technology, the intellectual fortitude of forensic scientists and the city's commitment to a promise made by its former chief medical examiner, the late Charles Hirsch, never to give up. The current chief medical examiner, Barbara Sampson, told the New York Times it's a "sacred obligation."
Mr. Johnson was the 1,642nd person to be identified out of the 2,753 killed at Ground Zero. The medical examiner's office has pored through 22,000 remains to make the identifications it has so far. The remains are kept in a 2,500-square-foot repository — located "between the two footprints of the Twin Towers," the medical examiner's office says — at the 9/​11 Memorial & Museum.
According to the Times, scientists are working with bone fragments that don't easily yield DNA clues. The office had made multiple attempts over the years to identify the remains now known to be Mr. Johnson's, succeeding only when new technology allowed a better DNA extraction process and scientists multiplied the genetic material to create a profile that was matched to his toothbrush and his parents.
New York City's medical examiner is not the only government agency involved in this kind of work. The Defense POW/​MIA Accounting Agency works to identify soldiers, sailors and airmen lost during combat, including 72,000 still unaccounted for from World War II.
Before Mr. Johnson, the New York City medical examiner last identified a 9/​11 victim in August, 2017. Before that, the last identification came in 2015.
Dr. Hirsch, who retired in 2013 and died three years later, warned families that progress would come in fits and starts as technology improved. For the families of those unaccounted for, his promise, backed now by Dr. Sampson, remains something to cling to.
Guidelines: Please keep your comments smart and civil. Don't attack other readers personally, and keep your language decent. Comments that violate these standards, or our privacy statement or visitor's agreement, are subject to being removed and commenters are subject to being banned. To post comments, you must be a registered user on toledoblade.com. To find out more, please visit the FAQ.