Justice for the Rohingya
8/31/2018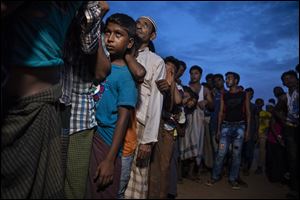 UN investigators said recently that Myanmar's army had carried out genocide against the Rohingya people.
The horrors in Rakhine state in the last year have shocked the world.
The oppressive Myanmar military regime that had been the focus of pressure from the international community for many years finally seemed on the verge of a peaceful democratic transition.
Click here to view more Blade editorials

After more than 15 years, one of the world's best known political prisoners, Aung San Suu Kyi had been released from house arrest. Her party won democratic elections and the Nobel Laureate became foreign minister and de facto leader of the government in 2015.
But then, Myanmar's military forces moved into Rakhine state, where the country's Muslim minority lived, to begin a brutal crackdown on suspected insurgents. Myanmar forces killed the minority Rohingya in mass, gang-raped women, enslaved children, and burned villages to the ground. As many as 25,000 were believed killed.
Since the attacks last August, the world has waited for Ms. Suu Kyi to intervene with her nation's military. How could a woman who persevered for decades leading a peaceful resistance to oppression not intervene on behalf of a religious minority being slaughtered in her own country?
The world has been disappointed. Ms. Suu Kyi not only did not intervene, she has defended her government's handling of the violence in Rakhine state.
United Nations investigators recently urged the U.N. Security Council to pursue charges against the Myanmar military commander-in-chief Min Aung Hlaing and five of his generals in International Criminal Court in the Hague. The six are responsible for the attacking the Muslim Rohingya with "genocidal intent," the investigators said.
The investigators' report went on to condemn Ms. Suu Kyi for her failure to protect the civilians.
About 700,000 Rohingya who survived the crackdown live in refugee camps across the border in Bangladesh.
The world has said "never again" many times in the aftermath of genocide. After Nazi Germany, after Rwanda, after Bosnia.
If the international community is ever to make that phrase a reality, those who commit atrocities must face swift justice. The Security Council must act on the investigators' report and the global community must join in a united front to bring the culpable to justice in the Hague.