How man's best friend died behind bars in southwest Ohio
9/9/2018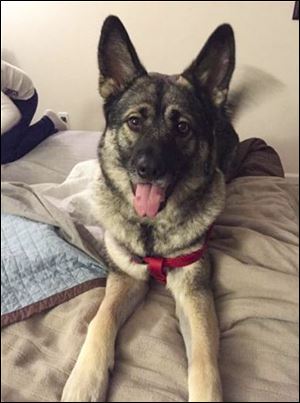 Evie's necropsy revealed she died from blunt force trauma to her abdomen.
Evie, a sweet, fluffy, mixed-breed dog who had already survived being hit by a car and twice abandoned, died in a cell at Warren Correctional Institution in southwest Ohio. How could such a thing happen?
Evie was part of a program that allowed inmates at the prison to keep rescue dogs in their cells.
The rehabilitative potential of allowing prisoners to care for dogs seems promising.
The unconditional love of an animal who does not care what else you have done in life or where you come from surely must help men behind bars become better people. Bonding with an animal and learning to be responsible for its care can likely benefit many prisoners.
But the safety and wellbeing of the animals who are left in the care of these men cannot be a secondary consideration.

Read more Blade editorials
Prisons are violent environments. Even if they're carefully screened before participating, prison inmates should probably not be solely responsible for caring for a vulnerable creature that cannot escape or even speak up for itself.
It it awful to imagine Evie's last moments, evidently beaten before dying on a prison cell floor, discovered by authorities on Aug. 25. An investigation is ongoing and criminal charges may be filed.
Officials with Joseph's Legacy, the rescue group that provided the dogs at the prison, promptly ended the program and retrieved its animals from Warren Correctional. Troublingly, they said they saw signs that at least one other dog also had been abused behind bars.
Other prisons that place dogs in cells with inmates ought to take note of this case and reevaluate whether the animals are sufficiently protected.
Dogs often get obvious satisfaction from having "jobs" in the human world — K9s who work with police or therapy animals who comfort people in hospitals, for instance. Many are more than willing to be of service to their human companions, but they shouldn't have to die for it.