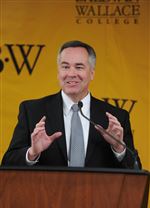 Robert C. Helmer and his family appearing at a Berea campus event announcing his appointment as ninth president of Baldwin-Wallace College.
Robert C. Helmer, president of Lourdes University, has been hired to lead Baldwin-Wallace College in Berea, Ohio, and will leave Lourdes at the end of the school year.
Mr. Helmer, president of the private Sylvania school since 2003, announced his departure to staff Monday morning shortly before a news conference in Berea announcing his selection as that school's ninth president.
"It's very bittersweet," said Mary Arquette, vice president for advancement at Lourdes. "It's a wonderful opportunity at Baldwin-Wallace, and we certainly wish him the best, but it is bittersweet. Bob has really invested so much of his heart and soul into this institution."
Mr. Helmer came to Lourdes in 1996 as a history professor and was appointed vice president for academic affairs in 2001.
Under his tenure as president, Lourdes experienced significant growth in enrollment and programs.
Lourdes has had eight consecutive years of record enrollment, and officials expect that streak to continue next school year. Enrollment more than doubled under Mr. Helmer to 2,653 students.
Growth began in part because of a tuition reduction Mr. Helmer initiated in 2004. Enrollment was lagging, so Lourdes cut tuition by more than 40 percent, a gambit that paid off, said Sister Diana Lynn Eckel, congregational minister for the Sisters of St. Francis of Sylvania.
"It was kind of a risk, a little gutsy to do," she said. "It could have gone either way, but it worked."
Mr. Helmer also oversaw expansions in Lourdes' offerings, with the addition of undergraduate and graduate programs. The school added athletics and residential housing. Grant funding grew, and the school added buildings.
The school changed its name last year to Lourdes University from Lourdes College. Coincidentally, Baldwin-Wallace's board of trustees voted Friday to change the school's name to Baldwin Wallace University.Lourdes officials credited Mr. Helmer's leadership style and drive and said he has set up the university for continued growth.
"I think his natural attributes of having a vision for the future, having the ability to executive that vision …is really unusual," Joseph Nachtrab, president of Lourdes' board of trustees, said. "I think Bob has had the total package for years."
Attempts to contact Mr. Helmer through both Lourdes and Baldwin-Wallace were unsuccessful.
Mr. Helmer succeeds Richard Durst as president at Baldwin-Wallace. Mr. Durst, who led the school since 2006, is to retire June 30. Baldwin-Wallace is slightly larger than Lourdes, but significantly older. The Methodist-affiliated college was founded in 1845; the Catholic-affiliated Lourdes wasn't opened until 1958.
Lourdes will form a search committee to select its next president. Officials expect the search to last about a year, and its next permanent president is not likely to be inaugurated until the 2013-2014 school year. An interim president will be appointed to lead the university through the 2012-2013 academic year; Mr. Nachtrab said he expects the board of trustees will pick the interim president within a week.
Contact Nolan Rosenkrans at: nrosenkrans@theblade.com or 419-724-6086.
Guidelines: Please keep your comments smart and civil. Don't attack other readers personally, and keep your language decent. Comments that violate these standards, or our privacy statement or visitor's agreement, are subject to being removed and commenters are subject to being banned. To post comments, you must be a registered user on toledoblade.com. To find out more, please visit the FAQ.