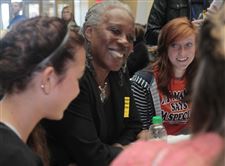 Sophomore Katelyn Schwamberger, left, Audrey Rowe of the USDA, and sophomore Hannah McIntire talk during lunch about the new meal standards on Monday at Perrysburg High School.
THE BLADE/JETTA FRASER
Enlarge | Buy This Image
The girls of Perrysburg High School have spoken: they want their soups back.
School lunches are changing in Perrysburg and across the country, as new federal guidelines force districts to improve the nutritional value of the food they provide.
But that also means the deletion or alteration of some popular items. Soups are temporarily off the shelves at Perrysburg High School as the food service department looks at sodium levels and other nutritional factors, and rewrites its menu.
As Audrey Rowe, food and nutrition service director of the U.S. Department of Agriculture, toured the school's lunchroom Monday, the first table she visited overwhelmingly lamented their loss.
"Be honest," Ms. Rowe told the girls, as school administrators and media members hovered nearby. "Don't worry about these people standing around."
After a complaint over a lack of variety, the soup refrain returned.
"I want soup," sophomore Mallory Gremler said.
The new food guidelines were prompted by the federal Healthy, Hunger-Free Kids Act of 2010. Schools must phase in more healthful meals over the next three years, by reducing the amounts of sodium and some fats in items offered, increasing the amount of low-fat or fat-free milk and whole-grain items, offering at least a serving of both fruits and vegetables every day, and tying the offerings' calorie counts to student age. Most of the lunch changes must be made this year.
Increasing the nutritional value of the foods children eat and reducing childhood obesity rates has been a signature issue of First Lady Michelle Obama. The USDA will reimburse schools an additional 6 cents per meal if they meet the new requirements, but the healthier meals will cost more, and many schools must overhaul menus. Thus, the missing soups in Perrysburg.
Perrysburg's child nutrition director Lila Szozda said the district is writing up new recipes to meet the standards. Disappearing was the everyday offering of pizza, in came fruits and vegetables. Bags of carrots and cups of grapes could be seen Monday on student lunch trays.
Ms. Szozda estimated that the new guidelines could increase costs to the district by about 10 percent, though the district's food service program operates with a positive fund balance. And she acknowledged the unrest over soup - their previous recipes didn't meet the new standards - but new recipes are in the works. After all, Ms. Szozda is, herself, a soup fan.
Mallory Gremler, a sophomore, opens the bag of carrots that are a part of her school lunch as she talks with USDA Food and Nutrition Service Administrator Audrey Rowe.
The Blade/Jetta Fraser
Enlarge | Buy This Image
Some districts started altering their menus in recent years in anticipation of the changes. Toledo Public Schools increased its whole grain offerings, and has no trans fats in its meals.
But business manager James Gant said the changes won't be covered by the increased reimbursements by the USDA; meals now will cost about 25 cents more, about four times the reimbursement increase.
The healthier meals do cost more, Ms. Rowe said, but schools can develop strategies to minimize costs. Some districts, for example, increased their practice of building meals from scratch. The practice had added equipment costs, but can eventually reduce labor costs. Other districts developed partnerships with local farmers. Ms. Rowe said that many schools that already adopted the requirements tended to see an initial spike in costs, then a plateau, and finally a decrease.
After the Perrysburg High School visit, Ms. Rowe also toured the Oneida City Farm Training Center on Oneida Street, where Owens Community College has urban agriculture classes and youths referred through juvenile court are involved in an employment training program.
She also met with representatives from Lucas County Job and Family Services and a number of area nonprofitorganizations and social service agencies, including Seagate Food Bank and Food for Thought. Job and Family Services administers the USDA's supplemental nutrition assistance program, referred to as food stamps. In August, 96,774 individuals in Lucas County received food stamps - about one out of every five adults and one out of every three children.
Ms. Rowe said she was most interested to learn about the Oneida Farms site.
"This is very unique. The Botanical Gardens and the juvenile court working together...This is a new approach and I wanted to learn more about it. I hope to have them come up to Washington to talk to some folks."
And she also told the Perrysburg girls they'd have to call her when new recipes are out.
"You gotta invite me back to try the soup," Ms. Rowe said.
Guidelines: Please keep your comments smart and civil. Don't attack other readers personally, and keep your language decent. Comments that violate these standards, or our privacy statement or visitor's agreement, are subject to being removed and commenters are subject to being banned. To post comments, you must be a registered user on toledoblade.com. To find out more, please visit the FAQ.