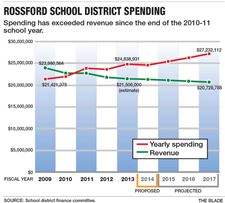 THE BLADE
Enlarge | Buy This Image
The Rossford schools' proposed budget for this school year's operations calls for spending about the same amount as last year, but continues a three-year trend of deficit spending covered by the district's dwindling cash reserves.
An appropriations resolution approved by the board of education last week contains a proposed budget of $24.83 million, an amount 0.7 percent higher than last year's spending.
Spending for regular instruction, at $11.51 million, is anticipated to be about 2 percent more than last year's, while special instruction, at $2.23 million, is expected to cost 14.4 percent more than in 2012-13.
Costs have been cut in vocational instruction, which will be 96.3 percent of last year's spending; outdoor education, expected to be 76.9 percent of last year's outlays; and academic intervention assistants, where spending is projected to be 89.4 percent of what it was in 2012-13.
"The district is in decent shape," Treasurer James Rossler reported in an accompanying memo to board members. "The fact that two 7.9-mill issues were renewed is huge. What we must do, as stewards of the money, is continue to be prudent when assessing expenditures. I cannot promise stability for the next 12 years as we have just recently had, but I can promise to try and stretch the funds as long as possible. ... Our revenue will continue to be a challenge with pressures coming from all sides."
The last year the district's revenue exceeded expenses was 2009-10. Since then, the Rossford schools have steadily drained cash reserves to cover the difference between income and spending. Those reserves will be $3.59 million at the end of the current school year, according to the district's most recent five-year forecast filed with the Ohio Department of Education.
Beyond that, the Rossford schools will run out of cash without spending cuts, new revenue, or a combination of the two, according to the forecast, with the red ink intensifying annually. The forecast projects a $639,295 negative fund balance by the end of the 2014-15 school year that climbs to nearly $6 million a year after that, and to more than $12 million by June, 2017 — about half the district's current budget.
The vote to adopt the appropriation was 4-1, with board member Jackie Brown the dissenter.
After the board meeting, Ms. Brown said she cast her no vote in keeping with her vote against a new three-year teachers' contract the board approved last month. The contract gives the teachers raises of 1 percent in the second year and 1.5 percent in the third. It gives 4 percent "step" raises most years in addition to the across-the-board, while requiring higher prescription and medical co-pays.
Ms. Brown said the district could not afford the contract's net cost increase — $53,000 the first year, $215,000 the second, and $453,750 the third — given that Rossford's tax base has shrunk by 10 percent and the schools are projected to continue to lose revenue each year. The raises could result in layoffs, she said, and "I want to keep as many jobs as possible."
Rossford's teachers are paid more than their peers in comparable districts, and are the highest paid in Wood County. The average Rossford teacher's 2009-10 salary of $65,853 was about $10,000 more than the state average, according to the Ohio Department of Education. By the new contract's end, a teacher with 25 years' service and a doctoral degree will be paid $100,227.
Superintendent Dan Creps, who grew up in Rossford and is a graduate of its schools, said the district has been a good custodian of taxpayer dollars, and noted that it has not requested new operating funds for 12 years. The relatively high teacher salaries, he said, are left over from the days when "we were considered a well-to-do community and had the industry to support it."
Also boosting the average salary is the high number of senior teachers with advanced degrees, he added. The option of going to the voters next year for a new operating levy "is under evaluation," he said, but for now, officials were focused on getting voter acceptance of a 37-year, 4.63-mill bond levy on the Nov. 5 ballot to finance the first phase of an extensive upgrade of school facilities.
Guidelines: Please keep your comments smart and civil. Don't attack other readers personally, and keep your language decent. Comments that violate these standards, or our privacy statement or visitor's agreement, are subject to being removed and commenters are subject to being banned. To post comments, you must be a registered user on toledoblade.com. To find out more, please visit the FAQ.