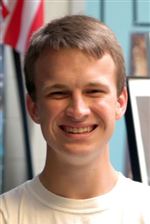 Michael Geisler
FAVORITES
School subject: U.S. Government and Politics and French
Extracurricular activity: Model United Nations
Hobbies: Reading books, hanging out with friends, discussing politics
Car: Aston Martin Vanquish
Store: Schorling's
Musical artist: Mat Kearney
Movie: A Few Good Men
TV show: The Office
FAST FACTS
Cafeteria food must-have: Chick-fil-A
Last book read that wasn't required: The Fountainhead by Ayn Rand
Pet peeve: When people spell "defiantly" instead of "definitely"
Person I'd like to meet: Governor Rick Perry
Person most admired: Chief Justice William Rehnquist
Items always in my locker: Copy of the Constitution
First job: Soccer referee
Top accomplishment: Attend the American Legion Buckeye Boy's State
FUTURE
After-graduation plans: I want to go to college on the east coast. After college, I want to go to law school and then get my Ph.D. in International Relations, and join the Navy JAG Corps.
Career goal: I want to work in the government in some facet, especially in the State Department. My dream job is to become the U.S. Ambassador to France.
Quote from teacher: "At Ottawa Hills, we have great respect for Michael as a well-rounded student with exceptional leadership skills," said Benjamin S. McMurray, Principal. "His passion, intellect, and dedication are just a few of his attributes that make him stand out among his peers. We appreciate all he does to make a difference at the school and in the community."
— Information is compiled for The Blade by the Educational Service Center of Lake Erie West.
Guidelines: Please keep your comments smart and civil. Don't attack other readers personally, and keep your language decent. Comments that violate these standards, or our privacy statement or visitor's agreement, are subject to being removed and commenters are subject to being banned. To post comments, you must be a registered user on toledoblade.com. To find out more, please visit the FAQ.