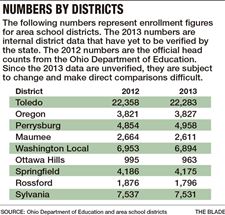 Ohio Dept. of Education Enlarge
Toledo Public Schools appears to have curbed its enrollment slide.
Preliminary data show the districtwide student population comparable to what it was a year ago.
Holding steady is an encouraging sign for TPS, which has endured a series of enrollment declines and has about a third fewer students than it did a decade ago. Between 2002-2003 and 2012-2013, the district lost 13,384 students, dropping from 35,742 to 22,358, and losing more than 1,000 students a year on average.
District officials said 22,283 students were enrolled in TPS as of Friday.
This year's numbers are not official. But officials "are optimistic that it is going to be a relatively stable population," TPS Chief Academic Officer Jim Gault said.
He attributed the apparent change in enrollment fortune to two things: the district's "transformation plan," and Romules Durant, TPS' new superintendent.
The plan, in its third year, brought districtwide K-8 buildings and an end to middle schools. District leaders long have said they believed the model would build stronger connections between neighborhoods and schools. They paired the change with a new focus on community partnerships and school programming.
Then there's the young and energetic Mr. Durant.
Mr. Gault said the new superintendent works 16-hour days.
Mr. Durant is a TPS graduate and has pushed a constant mantra of "TPS pride." Appointed an interim earlier this year after working as an assistant superintendent, Mr. Durant is relatively untested.
But he is popular among students. He's frequently mobbed after events by those who want to take pictures with him or just shake his hand. "I think our new superintendent has created quite of bit of excitement in the community," Mr. Gault said.
Toledo Public Schools officials said 22,283 students were enrolled in district as of Friday, which means a slower drop in student population than in the past.
THE BLADE
Enlarge | Buy This Image
It's not all good enrollment news for TPS, though.
While the neighborhood elementary schools appear largely stable, some high school enrollments continue to shrink.
Scott and Woodward high schools have fewer than 600 students each. And Waite, once a relative bedrock for the district, continued to fall in numbers, down to about 860 students from last year's more than 900.
Mr. Gault attributed the East Toledo school's population loss to open-enrollment policies of suburban districts.
Because the numbers are preliminary and enrollment fluctuates daily, small changes are seen as a sign of stability.
In the suburbs, the Sylvania district's 7,531 students were only six fewer than the 7,537 counted in 2012. Perrysburg calculated preliminary enrollment at 4,958, up about 100 from the last year.
The data for all schools come from October Count Week, based on the month's first full week, from which school funding is decided. The data should become official later in the year.
Contact Nolan Rosenkrans at: nrosenkrans@theblade.com or 419-724-6086, or on Twitter @NolanRosenkrans.
Guidelines: Please keep your comments smart and civil. Don't attack other readers personally, and keep your language decent. Comments that violate these standards, or our privacy statement or visitor's agreement, are subject to being removed and commenters are subject to being banned. To post comments, you must be a registered user on toledoblade.com. To find out more, please visit the FAQ.