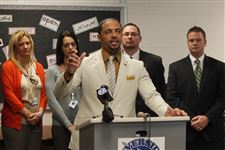 The Blade/Jetta Fraser
Enlarge | Buy This Image
Romules Durant, superintendent of Toledo Public Schools, announces that the district has received an award from Batelle for Kids for improving its student academic growth. Mr. Durant also thanked voters during the news conference for passage of a levy on the Nov. 5 ballot. With him are, from left, Jodie Crowl, school counselor; Jennifer Sanchez, school psychologist; James Gault, chief academic officer, and Kevin Dalton, president of the Toledo Federation of Teachers.