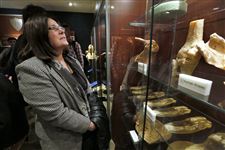 Linda Miller, director of the human science donation program, tours the Liberato Didio and Peter Goldblatt Interactive Museum of Anatomy and Pathology at The University of Toledo.
THE BLADE/ANDY MORRISON
Enlarge | Buy This Image
A museum that opened to the public Tuesday on the University of Toledo Health Science campus offers a rare peek inside the human body.
Dr. Carlos Baptista, associate professor of neurosciences, beamed with pride as he and other dignitaries cut a ceremonial ribbon to open the Liberato Didio and Peter Goldblatt Interactive Museum of Anatomy and Pathology in the Paul Block, Jr., Health Science Building at the former Medical College of Ohio.
In the building's basement, Dr. Baptista's former anatomy lab has been converted, at a $30,000 cost, to a space lined with glass-enclosed shelves displaying more than 300 human organs and other specimens for medical students, high-school science classes, and curious members of the public.
"We have to be conscious about the nature of the material that is here because it was donated by individuals that passed away, so we have to make sure that this is treated with a lot of respect," Dr. Baptista said.
PHOTO GALLERY: Opening of the Liberatio Didio and Peter Goldblatt Interactive Museum of Anatomy and Pathology
He and more than 30 medical students have worked more than 10 years to preserve parts of those donated human bodies using a method called plastination.
The process of removing fluid from human tissues and replacing it with a plastic resin was pioneered by Dr. Gunther von Hagens, a German anatomist who developed it during the late 1970s at the University of Heidelberg.
Dr. Baptista, also president of the International Society for Plastination, is one of just 20 to 30 experts worldwide who have mastered the process. The specimens are created, he said, in an explosion-proof lab where medical students assist in the painstaking process using highly volatile chemicals. "Every time I get in my lab I remember that I'm getting into a very dangerous area," he said.
UT's Plastination Laboratory — which has increased in size the last couple of years and is now one of the nation's largest — lacks equipment needed to preserve whole bodies, Dr. Baptista said.
Preserving an organ typically takes two to three months, he said, explaining that specimens are dissected, then dehydrated with acetone before being bathed in silicone or other plastic and hardened.
"It brings home what you tend to see in books," said Hermann Simo, a fourth-year medical student who plans to be a surgeon. "When you are able to see it, touch it, and feel it, I think your five senses are all intertwined and the information stays longer," he said.
Mr. Simo said he was excited to have the opportunity to immerse himself in the specimens' study because students often have limited time to view organs in the classroom setting.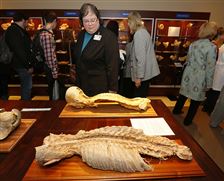 Jolene Miller, director of the Health Science Libraries, looks at the some of the exhibits in the museum, which is in the Paul Block, Jr., Health Science Building at the former Medical College of Ohio.
THE BLADE/ANDY MORRISON
Enlarge | Buy This Image
Organs are arranged according to function, such as digestion with stomachs, livers, and intestines, or neuromuscular control with brain and spinal-cord samples. Each specimen is labeled with a corresponding description on computer tablets positioned in front of the display cases that people can use for self-guided tours.
Vipul Shukla, a third-year medical student who has been working with Dr. Baptista on the project, said the museum was designed so many common diseases that afflict the public would be on display for public learning.
"In the development section, we have an example of fetal-alcohol syndrome, where you can see if a mom is drinking alcohol when she is pregnant, what happens to the baby," Mr. Shukla said. "When we have had high school students come through this year, we gave them a tour and we had so many moms or expectant mothers that said, 'I'm going to make sure I don't drink during pregnancy anymore,' or 'I'm going to tell my friends not to drink when they are pregnant'."
Before the museum's opening, Dr. Baptista would pull out a few examples for high-school science classes to view when visiting his lab. Now, UTMC medical students will lead guided tours and offer more interactive programs, he said.
"Hundreds of high-school students visit our campus through programs such as Student-to-Student, organized by current medical students, and they are fascinated by these organs," he said.
Madeline Heald, a fourth-year medical student, was thrilled to see on display a few specimens she had dissected for Dr. Baptista. "It's kind of a unique thing, and probably a little scary for some people and might gross them out a little bit," she said. "But for them to be able to come in and take a look and see this is what's inside my body is kind of a unique thing for the community."
The museum is named for Dr. Liberato Didio, MCO's first faculty member, who created the body donation program, and Dr. Peter Goldblatt, the second chairman of the university's pathology department.
The late Mr. Block was The Blade's co-publisher and a driving force in MCO's creation.
Students with UTMC identification have access at all times; the public may make appointments to visit by calling the Department of Neurosciences at 419-383-4109.
Contact Marlene Harris-Taylor at: mtaylor@theblade.com or 419-724-6091.
Guidelines: Please keep your comments smart and civil. Don't attack other readers personally, and keep your language decent. Comments that violate these standards, or our privacy statement or visitor's agreement, are subject to being removed and commenters are subject to being banned. To post comments, you must be a registered user on toledoblade.com. To find out more, please visit the FAQ.