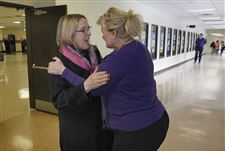 Joan Osborn-Van Guten, left, retired Waite High business education chairman, greets Hazel Munding, administrative assistant to the principal, during the school's centennial celebration.
THE BLADE/LORI KING
Enlarge | Buy This Image
Something about Waite High School brings graduates back and makes staff stick around.
More than 100 current and former Waite teachers, administrators, and support staff joined Friday with Waite graduates who themselves entered the education field. The gathering at the East Toledo high school was one of a slew of events celebrating the school's centennial, and it was an homage to Waite's habit of generating and grooming school staff.
Waite opened in 1914, and the school is one of only a handful the district has renovated instead of rebuilt.
It was a day for reminiscing and reconnecting, with former coworkers meeting again after years apart, or students reuniting with teachers who influenced them to take the plunge and become educators themselves.
PHOTO GALLERY: Click here to view more photos from the centennial celebration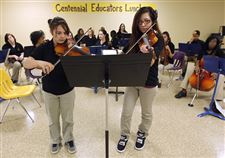 Waite seniors Asia Thompson, left, and Brenda Valesquez play during the centennial event Friday. The school has a history of turning students into future teachers.
THE BLADE/LORI KING
Enlarge | Buy This Image
Sam Szor came with son Tom to meet up with old friends. The elder Mr. Szor, longtime director of the Toledo Zoo's Music Under the Stars concert series, spent a decade at Waite as its band and choir director; he also worked at Woodward High School.
His son served as a teacher's aide and arranger for the band. Tom Szor said he remembered best the long trips for performances, and the intricate choreography the bands used during football games.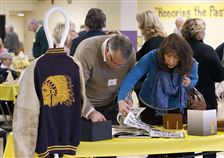 Waite alumnus Jim Ellinger and his wife, Nancy, of Holland glance through yearbooks during the centennial celebration.
THE BLADE/LORI KING
Enlarge | Buy This Image
And both remembered how tight knit Waite was — and still in many ways — is.
"The camaraderie among the children was incredible," Sam Szor said.
Just as East Toledo is its own unique community that has generated its own culture, so has Waite. And the school and its feeder elementary schools have served as sort of a breeding ground for teachers and administrators in Toledo Public Schools and other districts in the area.
Lois Bolander, a graduate and former teacher at Waite, said that about 30 percent of Waite's faculty for many years were also graduates of the school.
That's in part because of the continuity in leadership the school's had over the years, said Paul Gibbs, a Waite graduate who taught and was an administrator at the school, and now is principal of Sylvania's Highland Elementary school.
Waite has been led for nearly two decades by principal Dave Yenrick, a Waite graduate himself. Mr. Yenrick and his wife, Carolyn Yenrick, a long-serving Waite administrator, have become staples at the school.
Rarely is an urban school led by the same administrators for so long. It provides stability, but also a connection to the past.
Just as many East Toledo residents don't leave, Waite staff members tend to have long tenures, Mr. Gibbs said.
The Yenrick husband-and-wife team plan to retire at the end of the school year.
Waite, through the Yenricks and its strong and ever generous alumni association, has kept much of its tradition and history alive, even though its enrollment is less than half of its peak of about 2,400 students.
Mr. Gibbs graduated with another school administrator: Romules Durant, superintendent of Toledo Public Schools.
Growing up in East Toledo taught him a work ethic he's kept his whole career, he said, and he's found Waite alumni as mentors nearly everywhere he's worked.
The teachers and staff at Friday's celebration, Mr. Durant said, are who made Waite what it is.
"I never see myself as more than that East Side kid, who listened to his parents and his teachers," Mr. Durant said.
Contact Nolan Rosenkrans at: nrosenkrans@theblade.com or 419-724-6086, or on Twitter @NolanRosenkrans.
Guidelines: Please keep your comments smart and civil. Don't attack other readers personally, and keep your language decent. Comments that violate these standards, or our privacy statement or visitor's agreement, are subject to being removed and commenters are subject to being banned. To post comments, you must be a registered user on toledoblade.com. To find out more, please visit the FAQ.