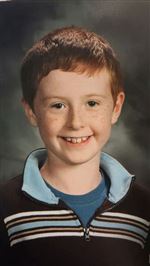 Jones
Ethan Jones, 9, who just completed third grade at Eagle Point Elementary School in Rossford, will attend the Envision National Youth Leadership Forum in Washington from July 28 to Aug. 1, after being nominated by his teacher, Jaime Halka.
Ethan has been student of the month twice at the elementary school and is a Boy Scout. He also plays football, basketball, and baseball. Students attending the Washington forum were given choices of engineering, medical, and crime-scene investigation programs to attend. Ethan chose engineering.
Guidelines: Please keep your comments smart and civil. Don't attack other readers personally, and keep your language decent. Comments that violate these standards, or our privacy statement or visitor's agreement, are subject to being removed and commenters are subject to being banned. To post comments, you must be a registered user on toledoblade.com. To find out more, please visit the FAQ.