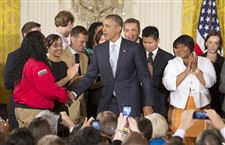 President Obama shakes hands after signing a memorandum on reducing the burden of student loan debt. The President said on Monday the rising costs of college have left America's middle class feeling trapped.
ASSOCIATED PRESS Enlarge
WASHINGTON — On Monday, President Obama announced and signed an executive order to help people who are shouldering too much college debt.
His remarks came days before Senate consideration of a bill that would allow about 25 million Americans to refinance unpaid student loans with lower interest rates. The Congressional Budget Office estimates that while the proposal will cost the government $58 billion over a decade, it also will garner $72 billion in taxes on higher-income brackets.
In his speech, President Obama mandated three separate actions. First, he stated plans for Secretary of Education Arne Duncan to expand the 2010 law limiting borrowers' repayments to 10 percent of their income — indicating steps to make the existing "Pay As You Earn" plan available to an additional 5 million Americans by heightening the threshold.
Secondly, he said the federal government will renegotiate contracts with loan companies such as Sallie Mae to provide more customer service and support. His third action promised to engage both the education and treasury departments, as well as tax preparation firms, to ensure that students make informed decisions about the best loan packages for their individual situations.
President Obama highlighted a need to support students who wouldn't be able to pay for college without borrowing money.
"Everything I do is aimed toward reversing those trends that put a greater burden on the middle class and are diminishing the number of ladders to get into the middle class," Mr. Obama said on Monday. "If somebody plays by the rules [and goes to college], they shouldn't be punished for it."
For Kendra Sayles, who already has earned three university degrees and is pursuing one more, the action would be welcome.
But as the University of Pittsburgh student works toward a dual PhD in regenerative medicine and nursing, she also shoulders a great debt: about $25,000 in unpaid loans from her undergraduate years.
For her student loans, Ms. Sayles pays $150 to $200 each month just to avoid capitalization, which she described as "interest on interest on interest." These payments leave her "sitting stagnant," as they don't reduce the amounts on any of her primary federal loans. If she hoped to make headway on those, she said she would be paying $300 and $400 monthly.
Sharing accurate loan information, the third action in the presidential memorandum, will help students navigate multiple plans and confusing packages.
To address this issue, President Obama pledged to engage large firms such as H&R Block to educate potential borrowers about their options. He also will personally field questions from students during a live Tumblr session today.
"We're doing more to help every borrower know all the options that are out there," he said.
The Block News Alliance consists of The Blade and the Pittsburgh Post-Gazette. Yanan Wang and Emma S. Brown are reporters for the Post-Gazette.
Guidelines: Please keep your comments smart and civil. Don't attack other readers personally, and keep your language decent. Comments that violate these standards, or our privacy statement or visitor's agreement, are subject to being removed and commenters are subject to being banned. To post comments, you must be a registered user on toledoblade.com. To find out more, please visit the FAQ.