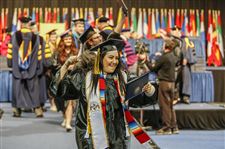 Nicole Harris of Toledo celebrates Sunday after receiving her diploma, a B.A. in Criminal Justice.
THE BLADE/JETTA FRASER
Enlarge | Buy This Image
Diana Labiche had tears in her eyes Sunday as she ran to her family the first time she could officially call herself a doctor.
Still clutching her newly attained University of Toledo diploma, Ms. Labiche alternated between hugging and wiping away tears.
PHOTO GALLERY: Click here to view slideshow
"I wanted to earn the highest degree possible in my field," Ms. Labiche, 51, said shortly after UT's morning spring commencement ceremony, during which she was awarded a PhD in curriculum and instruction. "I plan to work to better our community to develop a program that will help youth here and help [keep] our young people away from selling drugs."
Ms. Labiche acknowledged Sunday's graduation was a tremendous Mother's Day gift for herself and her own mother who attended.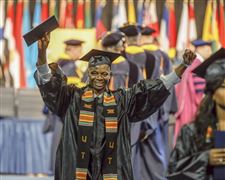 CORRECTION: Pictured is Anthony McGee of Toledo, receiving a Bachelor's Degree in Recreation Therapy.
THE BLADE/JETTA FRASER
Enlarge | Buy This Image
Their scene of jubilation was repeated hundreds of times around the perimeter of University of Toledo's Savage Arena at the end of two commencement ceremonies Sunday. Thousands of graduates packed most of the arena's main floor while cheering friends and family members packed the stands and turned the 7,300-seat building into a standing-room only venue.
Like many of the other 2,962 UT graduates from the university's colleges, Kian Searcy, 22, of Lima, shared optimism for an improving job market but still carried concern about the economy.
"My thoughts for the job market, at least in my field, are pretty slim," said Mr. Searcy, who wants to be a social studies teacher. "But I am optimistic. This is a good time to graduate. There is more potential to get a job now, so I think things are better in that regard."
The graduates included 165 doctoral candidates, 646 master's candidates and 2,023 bachelor's candidates. The remaining 128 candidates were awarded education specialist, graduate certificates, or associate's degrees.
After calling for all the graduates to stand, drawing thunderous applause, UT interim President Nagi Naganathan praised them for their accomplishments.
Mr. Naganathan put special emphasis on mothers Sunday during both the morning and afternoon ceremonies, asking those among the graduates or the audience to stand and be recognized.
"I know today is a special day and there are many moms in the audience who are beaming with pride as their children become graduates," he said. "On this Mother's Day, I want to express our sincere thanks to all of the moms whose love and support made this achievement possible for their sons and daughters."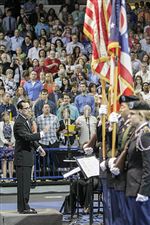 Jason Strumbo of UT's music department conducts an ensemble. At right is the UT Pershing Rifles color guard.
THE BLADE/JETTA FRASER
Enlarge | Buy This Image
During the 9:30 a.m. ceremony, state Sen. Keith Faber (R., Celina), who represents Ohio Senate District 12, delivered the address for graduates from the colleges of Adult and Lifelong Learning, Health Sciences, Social Justice and Human Service, and the Judith Herb College of Education.
Mr. Faber acknowledged what was undoubtedly on the minds of many graduates — that the three-hour ceremony was too long; that the majority of graduates probably won't remember who the commencement speaker was, or recall what he said.
He quoted the movie character Ferris Bueller, who, he quipped, was a noted philosopher from the 1980s.
"He famously said 'life moves pretty fast. If you don't stop and look around once in a while, you could miss it,'" the state senator said. "So today is your day to stop and look around. It is this moment in your life that you will remember all of the rest of your life. It is both the end of a long and hard-fought journey but also beginning of a next chapter."
Mr. Faber spoke of the Ohio Senate's "5 percent challenge," which calls on Ohio's public colleges and universities to reduce student costs by 5 percent for the next academic year.
"Simply put, we are bringing costs for students down," he said.
UT signed a memorandum of understanding with three area community colleges — Owens Community College, Northwest State Community College, and Terra State Community College — to create a consortium to lower costs and improve the transition from secondary to higher education.
Roy Armes, chief executive of Cooper Tire and Rubber Co., spoke during the 2 p.m. ceremony for the colleges of Business and Innovation, Communication and the Arts, Natural Sciences and Mathematics, and Languages, Literature, and Social Sciences.
Mr. Faber received an honorary doctor of public administration and Mr. Armes received an honorary doctor of business administration.
Contact Ignazio Messina at: imessina@theblade.com, 419-724-6171, or onTwitter @IgnazioMessina.
Guidelines: Please keep your comments smart and civil. Don't attack other readers personally, and keep your language decent. Comments that violate these standards, or our privacy statement or visitor's agreement, are subject to being removed and commenters are subject to being banned. To post comments, you must be a registered user on toledoblade.com. To find out more, please visit the FAQ.