Glendale-Feilbach School opens fitness center with $100,000 grant
10/5/2016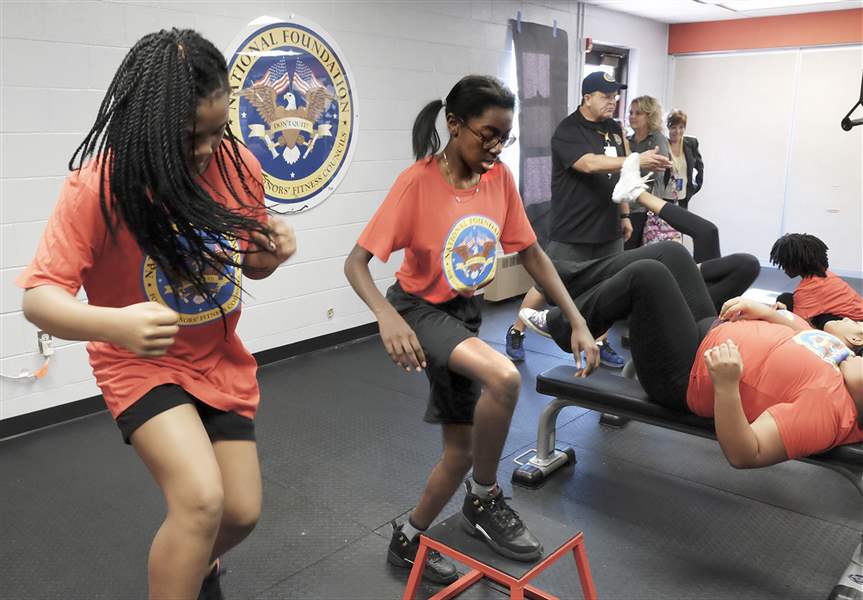 Above, fifth graders Vision Cleveland, left, and Ke'Asia Thomas perform an arduous stool exercise at Glendale-Feilbach Elementary's new Don't Quit Fitness Center, which opened Tuesday at the school in South Toledo.At left, Izayah Monroe, also a fifth grader, impresses Jake Steinfeld as he works his muscles on the upright rower. Mr. Steinfeld, creator of 'Body by Jake' and the chairman of the National Foundation for Governors' Fitness Council, spoke to the children before the ribbon-cutting for the center.
THE BLADE/JETTA FRASER
Buy This Image
Students at South Toledo's Glendale-Feilbach Elementary on Cass Road were full of energy Tuesday morning as they sang, danced, and chanted in the gymnasium.
They now have a place at school to use that energy, thanks to a $100,000 grant that paid for a new fitness center courtesy of the National Foundation for Governors' Councils.
Actor, fitness guru, and chairman Jake Steinfeld was one of many in attendance for the ribbon-cutting.
IN PICTURES: Glendale-Feilbach School opens fitness center
"This is such an energized group," Mr. Steinfeld said. "When I walked in the door, it was exciting to see all those smiling faces on happy kids and happy people."
Mr. Steinfeld's foundation partners with such companies as Coca-Cola and Nike to give their Don't Quit fitness centers to schools nationwide. Glendale-Feilbach was one of three schools in Ohio to get the National Foundation for Governors' Fitness Council's Fitness Center Award.
More than 200 schools in Ohio applied.
Physical education teacher Tammy Nelson discovered the grant, and alerted Toledo Public Schools Superintendent Romules Durant.
"With this grant, people all over the United States are looking at us at Glendale-Feilbach in Toledo because of the work we're doing," Mr. Durant said. "We are promoting health and wellness, as well as self-esteem."
The gym will be available to students, parents, and staff. It includes cardio equipment, weights, and even a set of monkey bars.
Many students in the school are special-needs students with mobility issues, and they will be able to use the facility.
"Any type of physical activity helps with the minds of our children," Ms. Nelson said. "[We want to] keep them active and feeling positive about themselves. We're picking our students up and feel this will help them academically."
Mr. Steinfeld has starred in exercise videos and television shows since the 1970s. He created FitTV, the first 24-hour fitness TV channel, in 1993.
Mr. Durant said he did curls with soup cans while watching Body By Jake as a kid. "I was working my way up to the milk jugs," he said.
Mr. Steinfeld told students he was chubby growing up, but exercise changed his life.
"My dad bought me a set of weights when I was about 13 years old," he said. "Not only did they build my body, but they built my confidence and self-esteem.
"If you believe in yourself, you can achieve anything you want in your life," he said.
Contact Jay Skebba at: jskebba@theblade.com, 419-376-9414, or on Twitter @JaySkebbaBlade.