41.65314
-83.64834
Property transfer represents the largest gift in school history.
Toledo real estate investment trust Welltower Inc. will donate about 100 acres of land and two office buildings on its corporate campus to the University of Toledo Foundation, the largest gift in university history.
The two entities say the donation of the sprawling property at 4500 Dorr St., announced Wednesday, has an estimated value of more than $30 million.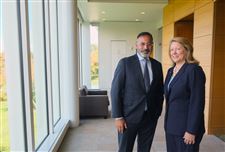 Welltower CEO Tom DeRosa and University of Toledo President Sharon Gaber Wednesday, September 20, 2017, in Toledo, Ohio.
The Blade/Jeremy Wadsworth
Enlarge | Buy This Image
UT President Sharon Gaber called the gift "fantastic." She said it is too early for the university to know just how it will use the property, but it opens many possibilities and, in a sense, expands UT's campus down Dorr street.
"We're excited about it. I think it's a unique collaboration. It's an opportunity that two entities haven't really tapped into previously in the way that we're doing this. And we're looking not only to have the opportunity to have this gift, which we're thrilled about, but thinking about other ways that we can continue to work together," she said.
Welltower, which invests in healthcare facilities including senior housing, moved its corporate headquarters to the site in 2010 after it purchased the colonial-style office complex from what was then called Dana Holding Corp. Welltower was then known as Health Care REIT Inc., but changed its name in 2015.
Welltower Chief Executive Tom DeRosa said the company will keep its headquarters in Toledo by leasing a 31,000-square-foot office building on the Dorr Street campus from the UT Foundation. The main building's 140,000 square feet of office space will be repurposed by the foundation. Welltower will maintain ownership of what it calls the lodge, a meeting facility with 16 bedrooms for overnight guests.
Mr. DeRosa said the property is too much space for the company's 150 Toledo employees. He said they wanted to share the campus with the greater Toledo community versus listing it to an unknown buyer.
"Given our long-term strategy in healthcare and real estate, and the long-term strategy of University of Toledo as a research university and educating tomorrow's future leaders, we think there are tremendous synergies that come from this arrangement," he said.
Additionally, Mr. DeRosa said they wanted to gift the property to UT to lift up the local community.
"Given the proximity of the university, they were our ideal choice," he said.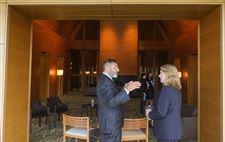 Welltower CEO Tom DeRosa and University of Toledo President Sharon Gaber Wednesday, September 20.
The Blade/Jeremy Wadsworth
Enlarge | Buy This Image
He said the opportunity to support a research institution was more attractive than the possibility of having an unrelated business moving in on their campus.
"If a company wanted to locate here, there are other places," he said.
Mr. DeRosa envisions partnering with UT students on research projects or developing student internships, but nothing is set in stone. He added the university will be a key player in developing a future workforce that can address the healthcare needs of an aging population.
The company in February announced a collaboration with Johns Hopkins Medicine aimed at developing wellness programs and care facilities to serve elderly patients.
"There's a lot to be determined, but those are just details. The spirit of what is being accomplished here is something that we can be very articulate on, and I think that's really the possibilities that this will bring to the community and to the state," he said. "We are an international company, so I think that also may provide opportunities for the University of Toledo."
UT Board of Trustees President Steven Cavanaugh called the donation a "great example of two great leaders" working creatively together.
"It makes both organizations better, and it makes the community better," he said.
One of Ms. Gaber's oft-talked about goals is growing the university's reputation and joining the nation's top 100 public research universities. Partnerships like this are a piece of that puzzle, she said, adding she believes the donation and subsequent collaboration will bolster not only the university, but the city as a whole.
"What's amazing and spectacular is in fact that a company based in Toledo is interested in having this relationship and wants to give to the University of Toledo, and it's the largest gift ever," she said. "For us, it's really a first step in thinking about, what does this corporate-university partnership look like?"
Welltower plans to open an office in New York City in 2018, but Mr. DeRosa said the company has no plans to leave Toledo, as some have speculated. He said the partnership with UT solidifies that.
"This is now a reason for us to stay in Toledo. This company, it's headquarters, will remain here in Toledo," he said.
The company's other regional offices include London; Toronto; Jupiter, Fla; and Beverly Hills.
Before Welltower transfers the 100 acres and office buildings to UT, it must first purchase a parcel it currently leases from the Toledo-Lucas County Port Authority, at a cost of $500. The final real estate transfer and lease-back agreement are expected to be finalized by the middle of 2018.
ProMedica is searching for a buyer for its former headquarters at 1801 Richards Rd., which neighbors the Welltower campus. Neither UT nor Welltower is interested in buying the property, officials said.
Contact Sarah Elms at selms@theblade.com, 419-724-6103, or on Twitter @BySarahElms.
Guidelines: Please keep your comments smart and civil. Don't attack other readers personally, and keep your language decent. Comments that violate these standards, or our privacy statement or visitor's agreement, are subject to being removed and commenters are subject to being banned. To post comments, you must be a registered user on toledoblade.com. To find out more, please visit the FAQ.