Washington Local Schools' board of education refused Wednesday night to allow Patrick Hickey, the district's former superintendent, to enter district property to be seated early next month as a newly elected board member, at least initially.
At the outgoing board's final meeting Wednesday, members upheld their previous decision to ban Mr. Hickey from district property. Outgoing board members Patricia Carmean, Eric Kiser, and James Langenderfer voted against temporarily removing the ban, while David Hunter and Lisa Canales voted in favor.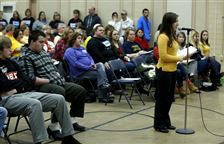 Kathy Mayfield is the first member of the public to be told by board president David Hunter not to mention the ban of Patrick Hickey during Wednesday's Washington Local Schools board meeting.
The Blade/Lori King
Enlarge | Buy This Image
The 3-2 decision was met with cheers from the standing-room-only crowd, many of whom wore yellow shirts in a silent show of solidarity in their effort to see the ban upheld.
"I'm extremely happy. I'm proud of this school board," parent and WLS graduate Tina Wagner said.
A motion to move the board's Jan. 3 organizational meeting off-site was defeated 3-1, with Ms. Canales abstaining.
RELATED CONTENT: Washington Local lawyers told Hickey to pay back public funds
Mr. Hickey resigned as Washington Local's superintendent in December, 2015, shortly before the school board could consider a resolution to fire him because of 37 charges compiled by a board-hired law firm. Those charges included allegations he failed to inform the district that he left Addison Community Schools in Addison, Mich., in 1990 after accusations surfaced that he had inappropriate relationships with students.
He was placed on administrative leave twice in 2015 before he resigned. The first leave stemmed from a district investigation into an informal complaint by a husband and wife — both teachers in the district — who said Mr. Hickey harassed them following the end of an alleged affair between the wife and Mr. Hickey.
Mr. Hickey's separation agreement limits his access to district property for events other than those related to his children, although the superintendent or board president can waive that restriction. The board subsequently banned him from all district property after an altercation between Mr. Hickey and officials at a basketball game.
He has insisted his ban from school property be lifted because of his election to the board.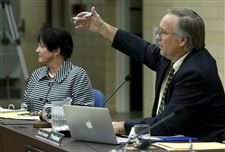 Washington Local School board president David Hunter shuts down public comments regarding the ban of Patrick Hickey.
The Blade/Lori King
Enlarge | Buy This Image
"This board, as they've done the last two years, they've thwarted the will of the people," he said Wednesday.
He added he is confident the new board will lift the ban in January, "and then we'll move forward."
"The president told me last night that the ban will be lifted," Mr. Hickey said.
Before the vote, Mr. Hunter limited public comment from the audience, asking that no one address the topic of Mr. Hickey or the ban. Several questioned the validity of constraining citizen comments' content at a public meeting.
"I was upset about that," Ms. Wagner said. "I don't like to be silenced, especially when I advocate for others, including for children."
Mr. Hunter stood by his decision to restrict public comment. He said board members have received emails, letters, and calls from the public regarding the ban, and he did not want to entertain further "divisive" discussion.
"This is a meeting of the public, not a public meeting," he told the crowd. "These decisions that are being decided, concerning this board and the next board, are very legally involved. So to allow that microphone to be open allows liability to this board, and we have to be protected to protect the monies of the school system."
Mr. Kiser wore a yellow shirt to Wednesday's meeting and addressed the audience before he cast his vote. He said he believes the separation agreement is binding and "was entered into willingly by both parties," and pledged not to amend or lift the ban.
"Nobody should be afraid to send their child to school or go to work," Mr. Kiser said. The comment was met with applause.
A full house attends the Washington Local Schools board of education meeting.
The Blade/Lori King
Enlarge | Buy This Image
Ms. Wagner said she helped organize the movement of citizens concerned about allowing Mr. Hickey on school property. The group sent roughly 400 postcards to current board members urging they maintain the ban.
"We want students and teachers to be safe in the district. There are some predatory behaviors that I don't feel comfortable with," she said.
Mr. Hickey, Mark Hughes, and former board member Tom Ilstrup are scheduled to be sworn when the new board convenes Jan. 3. Mr. Hunter said he will again make a motion to temporarily waive Mr. Hickey's ban at that meeting so he may be sworn in and participate.
Mr. Hunter said he then intends to call trustees into an executive session so they can further discuss Mr. Hickey's ban, as well as the separation agreement that he signed when he left as superintendent. He acknowledged he believes the ban should be altered to allow Mr. Hickey to attend board meetings at the WLS administration building.
"I believe voters have spoken," Mr. Hunter said.
Blade writer Nolan Rosenkrans contributed to this report.
Contact Sarah Elms at selms@theblade.com, 419-724-6103, or on Twitter @BySarahElms.
Guidelines: Please keep your comments smart and civil. Don't attack other readers personally, and keep your language decent. Comments that violate these standards, or our privacy statement or visitor's agreement, are subject to being removed and commenters are subject to being banned. To post comments, you must be a registered user on toledoblade.com. To find out more, please visit the FAQ.