UT sees growth; Lourdes, BGSU, Owens, Mercy enrollment remains flat
2/5/2018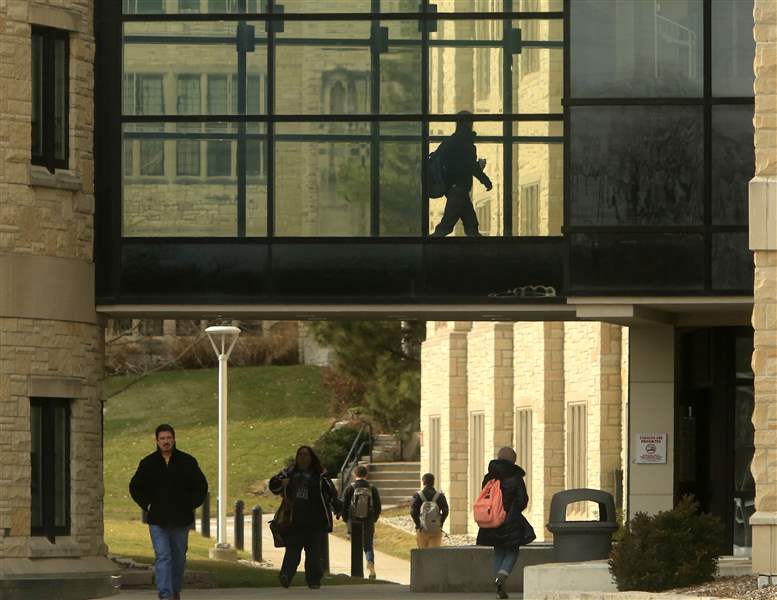 Students make their way between classes at the University of Toledo on Thursday, February 1.
The Blade/Kurt Steiss
Buy This Image
Students make their way between classes at the University of Toledo on Thursday, February 1.
Enrollment remained flat or decreased this spring semester at most Toledo-area higher education institutions, with the University of Toledo benefiting from the largest growth in student numbers compared to its counterparts.
"We are quite pleased to be up this spring given that enrollment was down for the fall. It's doubly impressive that we were able to achieve an increase over last spring's enrollment," said Stephanie Sanders, interim vice president for enrollment management at UT.
UT's overall head count was 19,326 for spring semester, up from 19,221 at this time last year. It represents an increase of less than 1 percent.
UT officials were particularly pleased with the increased student-retention rate for the university this spring. Spring enrollment reflected an improved undergraduate fall-to-spring-semester retention rate of 90.6 percent for the current academic year, which is a shade higher than last year.
Ms. Sanders said she attributed the growth to the administration making a concerted effort to ensure students have the proper resources they need.
"We have the systems in place to identify issues as they arrive and help them get connected to the right type of support," she said.
Enrollment was stable at Bowling Green State University. BGSU's student enrollment was 18,483 last spring compared to 18,474 this year.
BGSU's graduate student count at the main campus fell 4.8 percent, which Cecilia Castellano, vice provost for strategic enrollment planning, attributed to the nationwide trend of declining international student enrollment.
One area where enrollment grew was BGSU's eCampus online program. Officials tallied 690 online learners this fall versus 451 last year. BGSU also had nearly 250 new transfers and 62 new freshmen in the program this spring, Ms. Castellano said.
Private Lourdes University in Sylvania experienced a small increase in enrollment. Total enrollment was 1,259 this spring semester, compared to 1,253 students last year.
Mercy College of Ohio's spring enrollment of 1,328 was less than a 1 percent decrease from last year's total.
Owens Community College enrollment was 8,458, down from 9,196 students last spring.
An Owens spokesman said that Ohio higher education no longer looks at enrollment as a benchmark. Rather, completion numbers are how colleges and universities in Ohio measure success.
Contact Javonte Anderson at janderson@theblade.com, 419-724-6065, or on Twitter @JavonteA.