Student of the Week: Noah Kreuz, Evergreen High School
4/9/2018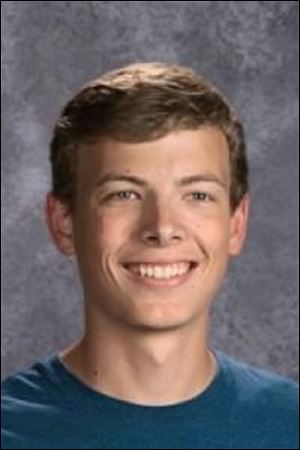 Noah Kreuz
FAVORITES:
School Subject: Government
Hobbies: Love to camp and golf
Extracurricular Activities: Marching band, CYO basketball, golf, National Honor Society, Student Council
Car: Chevy Renegade truck
Store: American Eagle
Movie: Road to Perdition
Musical Artist: Eric Church
TV Show: The Simpsons
FAST FACTS:
Cafeteria Food Must Have: KFC bowls
Person You'd Like to Meet: Tom Hanks
Person Most Admired: My parents
Item always in your locker: Books I don't use
First Job: Bagger at Kroger
Top Accomplishment: Hosting my own blood drive. Take a Seat Project, HOBY Leadership Camp
FUTURE:
After Graduation Plans: Attend the University of Toledo and major in Business Administration
Career Goal: Be employed at Pella and eventually own my own business
Quote from teacher: "Noah is a kind, friendly, and welcoming student," said Sarah Roper, counselor. "He is willing to go out of his way to be helpful to others and is an amazing example to others. He exemplifies what it means to be a Viking and makes us all proud."
- Information is compiled for The Blade by the Educational Service Center of Lake Erie West.