Arizona Gov. Doug Ducey reflected on his Toledo upbringing Thursday evening as he discussed his executive experience in business and government at his alma mater, St. John's Jesuit High School.
"It's great to be back at a place where I have such fond memories and to see the school thriving," Mr. Ducey, class of 1982, said to a gathering of about 50 in the chapel at St. John's. "I'm very much a product of the Midwest and the working class."
Mr. Ducey earlier in the day spoke to a student assembly and then to a group of student leaders.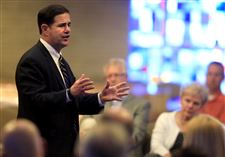 Arizona Gov. Doug Ducey speaks Thursday at St. John's Jesuit in Toledo, his alma mater.
The Blade/Kurt Steiss
Enlarge | Buy This Image
"It was wonderful for us, and he had such a great message for the kids," said Mike Savona, president of the school, who was a relatively new math teacher when Mr. Ducey was his student. The governor in part spoke of how his Jesuit education informed his decision making, Mr. Savona said.
"His story, his personal story, was such a great message," Mr. Savona said.
Mr. Ducey, a Republican who is seeking a second term as Arizona governor, also held a private fund-raiser with Toledo friends and classmates, some of whom came to his evening talk still wearing "Ducey Victory" name tags.
Jon Stainbrook, chairman of the Lucas County Republican Party — and a member of the St. John's class of 1982 — recalled that Mr. Ducey was well liked at the school and was a "great communicator."
"It didn't surprise me he did very well in business and in government as an elected official on many levels,'' said Mr. Stainbrook, who did not attend the event.
Mr. Ducey's father was a Toledo police officer, but his parents divorced. His mother had moved to Nevada, and a St. John's counselor advised him that universities were cheaper out west. After graduation, he drove to Arizona State University, from which he received a bachelor's degree.
Mr. Ducey worked at Procter & Gamble for a time and said, during questions and answers, that he could have made a career there as many do. But he wanted to go in business for himself. He was affiliated the longest with Cold Stone Creamery, an Arizona founded, franchise-based start-up, of which he became chief executive. The company had more than 1,400 locations when it was sold in 2007.
"I'll say the first hundred stores are a lot tougher than the first thousand," Mr. Ducey said, answering a question about the challenges of a start-up.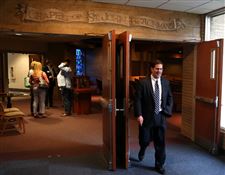 Arizona Gov. Doug Ducey walks out of the Chapel of St. John Berchmans after speaking and answering questions Thursday. Ducey was a student at St. John's.
The Blade/Kurt Steiss
Enlarge | Buy This Image
Mr. Ducey said that he'd never been to Washington before a visit with a group of young executives. He met with one of his state's U.S. senators, Jon Kyl, who advised that if Mr. Ducey believed he had an executive personality, not to bother running for a legislative seat, but instead to seek the governor's office.
A stop in the state treasurer's office preceded his successful run for governor in 2014, when he had the support of such notables as Sarah Palin and U.S. Sen. Ted Cruz (R., Texas).
"In case you can't tell, I'm really enjoying this job," Mr. Ducey said. "It's a great job, but I don't think it's something you should do your entire life."
He said recent weeks in which teachers went on strike were "brutal," but said the actions were the result of "a lot of activism on the left," which pitted teachers against the business community "and got them to walk out and shut the schools down."
"We were able to navigate through it," Mr. Ducey said. The teachers returned after Mr. Ducey signed a plan to give teachers a 20 percent pay raise spread out over three years.
He said that Arizona is misperceived as a red, or Republican state, recalling that Janet Napolitano, a Democrat, was a popular governor.
"I'm concerned about anybody sitting back," Mr. Ducey said. "The left is very energized. They're very angry, and they show signs of being somewhat organized."
He said that he told students seeking advice on entering politics to go into business or the military or teach school before seeking office.
"The people I find most maddening in my new life are the people who have been in politics the whole time," Mr. Ducey said. "I think you make better decisions when you're informed by a life and a network outside politics."
He said state governments tend not to be as polarized politically as the national scene.
"As a governor, if you are harshly partisan, you're not going to win an election. You'll be voted out of office, cause you've got to really be a governor of all the people."
Contact Mark Zaborney at mzaborney@theblade.com or 419-724-6182.
Guidelines: Please keep your comments smart and civil. Don't attack other readers personally, and keep your language decent. Comments that violate these standards, or our privacy statement or visitor's agreement, are subject to being removed and commenters are subject to being banned. To post comments, you must be a registered user on toledoblade.com. To find out more, please visit the FAQ.