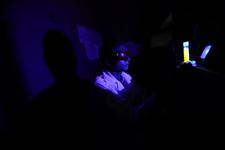 Daniel Miller Enlarge
When it comes to light that harms people's eyes, blue light — such as the glow from digital devices and the sun — is the worst, and University of Toledo researchers have determined exactly why that portion of the electromagnetic spectrum is so bad for eyes.
In a recent UT study, chemists found that blue light from cell phones, tablets, and the sun converts vital molecules in the eye's retina into dangerous chemicals that ultimately kill cells and leads to age-related macular degeneration, a leading cause of blindness in the United States, according to a university media release.
The study, published in the Scientific Reports journal, highlights that a constant supply of retinal molecules is necessary for allowing individuals to see. Exposure to blue light causes retinal molecules to prompt reactions that create poisonous chemical molecules in photoreceptor cells.
Green, yellow, and red light does not create those same effects compared to the retinal-generated toxicity caused by blue light, the most intense portion of the visible electromagnetic system.
"Every year more than two million new cases of age-related macular degeneration are reported in the United States," said Ajith Karunarathne, assistant professor in the UT Department of Chemistry and Biochemistry. "By learning more about the mechanisms of blindness in search of a method to intercept toxic reactions caused by the combination of retinal and blue light, we hope to find a way to protect the vision of children growing up in a high-tech world."
Unlike other lights, including ultraviolet and UV light that get reflected by our eyes, retinal molecules allow blue light to enter our eyes. The molecule absorbs blue light and gets energized.
The energy is then transferred to the oxygen in the eye, making oxygen a reactive molecule that interacts with lipids and protein.
"These free retinals are inducing big amounts of damage to the cell tissues and ultimately resolving in cell death," John Payton, a visiting assistant professor in the Department of Chemistry and Biochemistry, said.
When the photoreceptor cells die, they don't grow back. But since our eyes have thousands of them, people don't notice vision loss from just losing a few photoreceptor cells.
However, if dead cells reach an exceedingly high level, vision is compromised, Mr. Karunarathne said.
In order to better understand this, the researchers tested cells derived from the retina along with some immune cells and cancer cells.
"What we found was, universally, blue light and the molecule retinal, [when] you have them together, they kill cells," Mr. Karunarathne said.
Even cells that are not designed to sense light are killed by this reaction.
The reaction, however, varies from person to person since some individuals have high levels of antioxidants as a result of the food they eat. One of the antioxidants derived from Vitamin E, called alpha tocoferol, can substantially reduce cell death.
However, with age people lose their ability to fight macular degeneration, Mr. Payton said.
Mr. Karunarathne advises people to not use their cell phones or other devices in the dark for prolonged periods of time. This is because when pupils are dilated, they allow the most light to enter our eyes, putting them at risk of damage.
Mr. Karunarathne gave the example of using a cell phone outside, when it doesn't appear as bright as it is when it's being used in the dark.
"Our eyes are adjusting to the lighting and our pupils are dilated to the maximum," he said. "Every beam of light coming in will get into your eye."
However, looking at a text for a few minutes in the dark will not cause any damage to the eye.
The UT group wants to continue doing further research on this subject by taking retinas from cows and separating photoreceptors to examine what kind of light intensity levels cause the cells to die, Mr. Karunarathne said.
Contact Areeba Shah at ashah@theblade.com, 419-724-6066, or on Twitter @areebashah_.
Guidelines: Please keep your comments smart and civil. Don't attack other readers personally, and keep your language decent. Comments that violate these standards, or our privacy statement or visitor's agreement, are subject to being removed and commenters are subject to being banned. To post comments, you must be a registered user on toledoblade.com. To find out more, please visit the FAQ.