New teachers prepare for first day of school
8/17/2018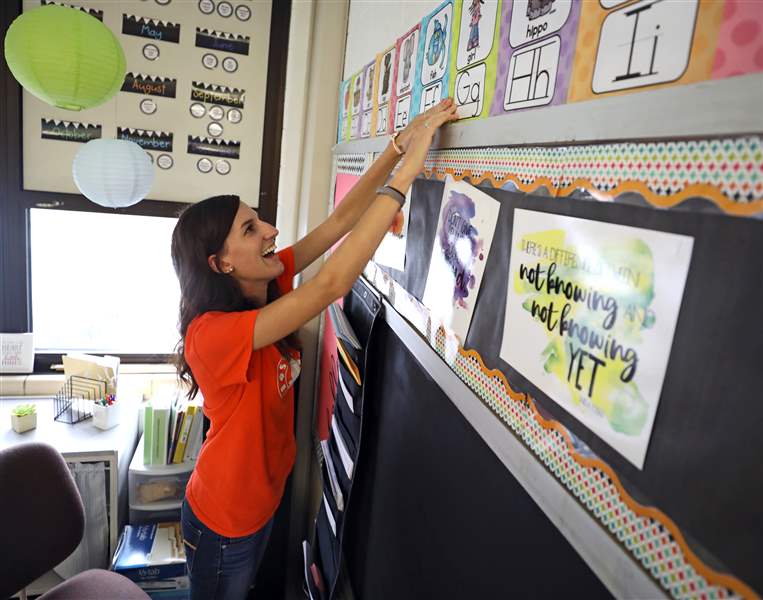 Amanda Wisniewski, a first-year teacher who will be teaching second grade, adds tape behind alphabet posters as she prepares her classroom at Stranahan Elementary in Sylvania Township.
THE BLADE/KURT STEISS
Buy This Image
Asked to describe how she feels a few days before the start of her first school year as a teacher, Amanda Wisniewski could only smile.
After a short pause, she responded: "Excited."
A second-grade teacher at Stranahan Elementary School in Sylvania, Ms. Wisniewski eagerly awaits Monday morning — the first day of school.
For her, Monday will not only signify the culmination of four years of studying at Bowling Green State University but the accomplishment of a childhood dream.
"Since I was in elementary school I always kind of pictured myself as a teacher in the future," she said. "Just from seeing my teachers, and seeing the impact that they can have on a student and the impact they had on my life kind of nudged me in this direction."
As summer vacation comes to a close, northwest Ohio schools and educators are preparing to welcome back students.
And for the teachers starting their careers, the first day of school will be unique.
The first day of school in the first year of their careers.
Lindsay Kinsey, who's taught at Stranahan for six years, said new teachers' primary focus should be making connections and building relationships with students.
"If kids know that you genuinely care about them, it's a game changer," she said.
Building a healthy relationship with her students is Ms. Wisniewski's top priority.
"I really want to focus on the classroom community and having a comfortable environment for all of my students," she said.
"When they're in an environment they're comfortable with, they learn so much better."
Less than a week before the school year was to begin, Ms. Wisniewski sauntered around her classroom.
She worked diligently this summer decorating. Alphabets, vocabulary words, and numbers adorn the walls. A well-stocked library with the books sorted by the appropriate grade-level is in the rear of the class.
With a robust support system within the school district, and years of preparation at Bowling Green, and a student-teaching internship in Springfield, Ms. Wisniewski said she's confident heading into the school year.
She understands she plays a critical role in shaping the minds of her incoming 24 students. And her guidance, if only for a year, will contribute to the adult her second-graders will ultimately become.
"I'm very excited to begin my teaching career and this whole experience."
Classes at Sylvania Schools, Springfield Schools, and Toledo Public Schools start Monday. Other districts in the Toledo area begin later this week.
Bedford Schools in Michigan go back to class Sept. 5.
Contact Javonte Anderson at janderson@theblade.com, 419-724-6065, or on Twitter @JavonteA.