Toledo, suburban districts start school
8/20/2018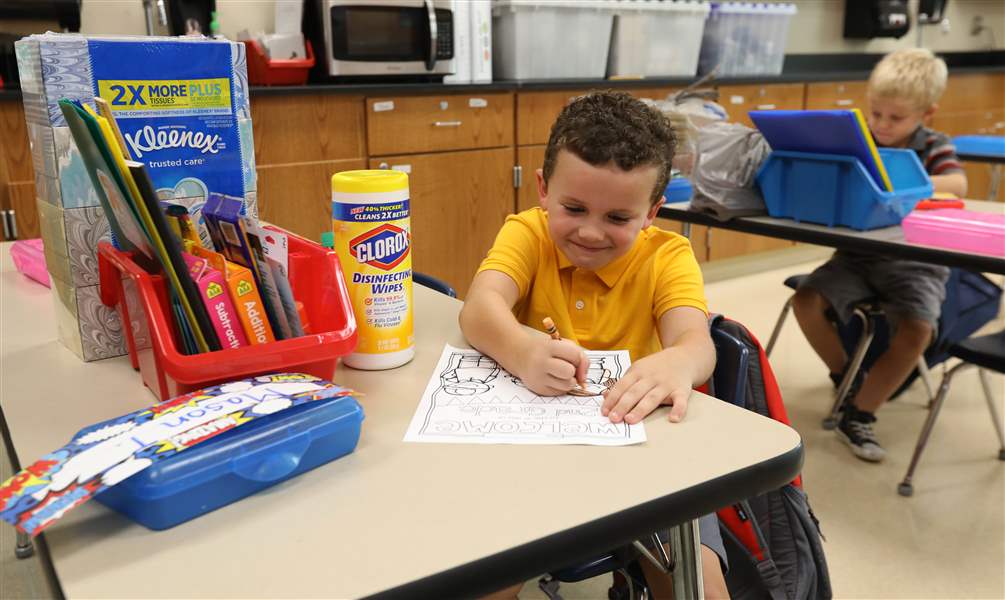 Second grader Mason Thurman colors during his first day of school at Byrnedale Elementary School in Toledo.
THE BLADE/LORI KING
Buy This Image
An energetic Tom Drescher stood in front of the school greeting students one-by-one.
Handshakes.
High-fives.
He was met with mostly smiles and some long faces.
His vibrant personality was limited only by his neatly pressed three-piece suit.
"Hi, I'm Dr. Drescher, the new principal here at Byrnedale Elementary, but you can call me Dr. Dre," he told the students.
Principals across northwest Ohio welcomed students back to school Monday morning, with TPS, Springfield, and Sylvania opening their doors for the first time of the 2018-2019 school year. Many other northwest Ohio districts, including Ottawa Hills and Rossford, will start the school year later this week. In Bedford, school starts Sept. 5. In Maumee, Perrysburg, and Oregon classes started last week.
RELATED: Many teachers struggle to pay for classroom supplies | New teachers prepare for first school year
Hundreds of students streamed into Byrnedale Elementary Monday morning as a line of cars crawled around the parent-drop off lane.
Some students were beset with the first-day-of-school jitters while others bubbled with excitement.
Janay Temple, 7, couldn't contain herself when she spotted her friend in the distance.
"LaR'ia!" she screamed while sprinting across the grass to meet her classmate.
The two girls were soon joined by a third friend, Jordyn Penn. The three second graders' friendship dates back to kindergarten.
They embraced, holding one another tightly with a group hug.
Jordyn, 7, could hardly sleep the night before school, her mother, Erica Grinter, said.
But she spent Sunday night worried about a more pressing matter — what sweater to wear on the first day.
She decided on a teal sweater with matching shirt and socks.
Sheila Thomas arrived early with her 12-year-old, Eban Thomas, who transferred to Byrnedale from Old West End Academy. The two took a selfie in front of the school to commemorate the moment. The mother of the eighth grader said she wasn't worried about her daughter adjusting to a new school.
"I feel like she's good at adapting to different situations," she said.
Back-to-school enthusiasm wasn't limited to only students.
Superintendent Romules Durant started his day shaking hands and lending encouragement to the students at the Ella P. Stewart Academy for Girls and the Martin Luther King, Jr. Academy for Boys.
Students at both schools were welcomed back by community members and business professionals, who formed rows outside the school's doors and greeted the students as they walked into the buildings.
"What we've done is called the gauntlet of encouragement," Mr. Durant said. ..."Rather than kids dreading to come off of the summer months and go right into school, we want them to be excited, and that excitement comes from what happens in the community," he said.
TPS opens the school year with several new initiatives, including the Aerospace and Natural Science Academy and the newly rebranded STEMM elementary schools — McKinley and Marshall.
Sylvania Superintendent Adam Fineske's morning started early at 5:15 a.m. at Sylvania's bus garage, where he energized the bus drivers before they left to pick up the students.
"I was trying to hype them up," he said. "We had some high-fives as they were headed to their buses."
Mr. Fineske said he's encouraged with Sylvania projected enrollment increase this year. The district's enrollment is about 7,900, a 5 percent increase from two years ago, he said.
With the new school year under way, Mr. Drescher said he's looking forward to an enjoyable and productive year.
"I'm very excited for the school year," he said. "It's always nice when the adults are here but at the end of the day it's about the kids."
Contact Javonte Anderson at janderson@theblade.com, 419-724-6065, or on Twitter @JavonteA.