Toledo area officials not in favor of arming teachers
9/9/2018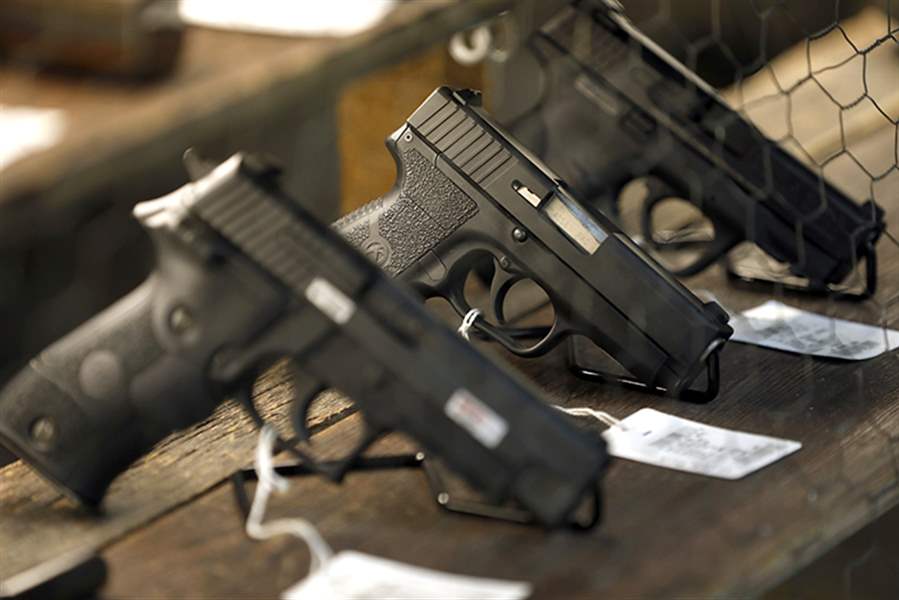 Media outlets have reported that the Department of Education is considering allowing states to use federal money to purchase guns for educators.
THE BLADE
Buy This Image
After news surfaced that Education Secretary Betsy DeVos is contemplating whether to allow states to use federal money to purchase guns for educators, local officials cautioned against such measures, emphasizing the importance of entrusting trained law enforcement officers.
"I don't like the idea of arming educators and putting that responsibility on them," Lucas County Sheriff John Tharp said. "I think we ought to be arming our law enforcement officers and putting law enforcement in schools. I would say create more monies to have more school resource officers in the schools.
Lucas County Sheriff John Tharp
"If we had additional officers, not only are they providing safety and security, but they could be educating our children on things like drug and opioid addiction."
National media reported that the department of education is considering using federal funds from Student Support and Academic Enrichment grants, which were created to ensure low-income students have access to improved educational opportunities.
Federal legislation does not explicitly prohibit using the funds to buy firearms. That omission would give Ms. DeVos the flexibility to allow any state or school district to use grant funding for guns.
The U.S. Department of Education did not respond to a request for comment.
Oregon police Chief Mike Navarre said he isn't "100 percent" against potentially arming teachers, but he added that it's critical people understand the risks before making that decision.
"There will undoubtedly be an incident where someone has a firearm and is able to successfully conclude an active shooter incident," he said. "If we're talking about a former police officer that has extensive training with handling and securing a firearm, and shooting accurately with a firearm under stress, or a military person who has had that same level of training I think you can make a strong argument for those individuals."
There are also several problems associated with introducing a firearm in a school environment, Mr. Navarre said.
"A teacher can fail to secure a firearm in a desk or a purse properly, and forget to lock it, and somebody gets access to that weapon," he said.
House Democrats sent a letter to Ms. DeVos urging her to clarify that federal education funding cannot be used to arm teachers and other school staff.
"Arming teachers would not only jeopardize student and staff health and safety, but also run counter to Congressional intent, precedent, and common sense," the letter read.
President Donald Trump and others have publicly supported arming teachers to protect students.
"Armed educators [and trusted people who work within a school] love our students and will protect them," President Trump tweeted in February. "Very smart people. Must be firearms adept & have annual training."
In response to the Parkland, Fla., school shooting, Congress allocated $50 million per year to enhance school safety through the use of metal detectors and other deterrents. The Students, Teachers, and Officers Preventing School Violence Act specifically banned money be used to train or provide school staff with firearms.
Earlier this year, Butler County Sheriff Richard Jones held a conceal-and-carry weapons class for 50 Ohio educators.
Under Ohio's concealed carry law, school employees must leave their guns in their locked vehicle when on school property, unless they have written permission from the school district.
In Ohio, school boards are allowed to authorize staff members to carry concealed weapons in school buildings without notifying the public.
A few rural school districts have publicly given the green light to arm teachers.
But as everyone strives to protect students there remains disagreement on how to strengthen security.
"The idea of arming teachers is simply a bad idea," said Ohio Education Association President Becky Higgins.
"Teachers and other school employees should not be asked to serve a dual role by having concealed weapons to face school intruders. Our focus should be on what we do best — providing a quality education to our students."
Contact Javonte Anderson at janderson@theblade.com, 419-724-6065, or on Twitter @JavonteA.