Husky Energy mulls Lima Refinery upgrade
9/13/2013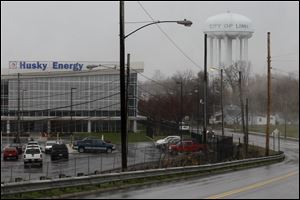 Husky Energy, a Canadian company, operates an oil refinery in Lima.
LIMA, Ohio — The owners of the Lima Refinery are considering a $300 million investment that would provide more flexibility at the facility with capacity to refine heavy, as well as light crude.
The changes, which would be completed in 2017, would allow Husky Energy Co. to refine as much as 40,000 barrels of heavy crude as a portion of its 160,000 barrels a day, a company spokesman told the Lima News.
The project has not been approved by Husky's board. The company has approved $50 million for preliminary engineering. The company will make a final decision about the project after the engineering is completed.
The Lima Refinery, which has been operating for 127 years, has about 440 employees and about 200 contractors.