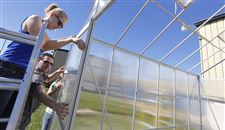 Karen Walker, left, and Anthony Offak help assemble a greenhouse provided by the northwest Ohio chapter of the U.S. Green Building Council at Ida High School in Michigan.
THE BLADE/ANDY MORRISON
Enlarge | Buy This Image
One school in Toledo and three in Monroe County are getting working greenhouses for educational purposes, thanks to the northwest Ohio chapter of the U.S. Green Building Council.
The Toledo school is Central Catholic High School, while those north of the Michigan line are the high schools in the Ida and Airport districts and Sodt Elementary in the Jefferson district.
The kits cost about $2,000 and are assembled with volunteer labor. Once up, a greenhouse has floor space of 10 feet by 12 feet. Its frame is made of aluminum, and instead of glass, it is covered with polycarbonate, according to Karen Walker, who chairs the green schools committee of the Green Building Council chapter.
The national organization, she said, "asks each chapter to reach out to the community and do a project that relates to sustainability." Ms. Walker, an architect, lives in Bedford Township and works at the Collaborative in Toledo, where she specializes in green design.
Strictly speaking, she added, Monroe County is in the Green Building Council's Detroit region, but "when it comes to children, we really don't have borders."
The University of Toledo's LEADERS program also is involved. Each recipient school has teachers enrolled in a LEADERS course of study that will lead to a master's degree in renewable energy, said Joe Perlaky, the executive director of the Maumee Valley Growers, which represents area commercial greenhouses.
The UT program emphasizes math and science training through service projects such as the greenhouses. Mr. Perlaky acts as a liaison between the commercial greenhouse growers and the LEADERS program.
Before the greenhouses were awarded, teachers at the recipient schools had to explain how they would integrate the greenhouse activities with their classroom instruction.
Ida science teacher Scott LaRoy said he planned to use it for long-term projects, such as a study of algae as a model for cell reproduction and biofuels. "Instead of watching our plants die in October, we can extend our projects and the time period," he said.
At Central Catholic, the greenhouse will be used to improve lessons on photosynthesis, teacher Kristi McKinley said.
"We also hope to use it in STEM [science, technology, engineering, and math] research," she explained. "It's preliminary, but we hope to have an actual lab. A student will be putting out plants to do research on monarch butterflies, and she'll have the caterpillars there. We also hope to build a network with community organizations to improve their food pantries."
Guidelines: Please keep your comments smart and civil. Don't attack other readers personally, and keep your language decent. Comments that violate these standards, or our privacy statement or visitor's agreement, are subject to being removed and commenters are subject to being banned. To post comments, you must be a registered user on toledoblade.com. To find out more, please visit the FAQ.