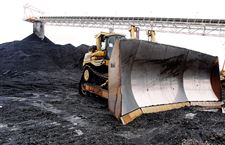 President Obama's plan to cut the main climate-altering greenhouse gas produced by coal-fired power targets businesses such as Peabody Energy, which owns the Gateway Coal Mine near Coulterville, Ill.
ASSOCIATED PRESS Enlarge
President Obama's sweeping plan to cut the main climate-altering greenhouse gas produced by coal-fired power plants is designed to create more incentives for renewable-energy jobs in northwest Ohio.
But many of those jobs, proponents said, likely will go to Michigan and other neighboring states, especially because the Ohio General Assembly put the state's renewable energy law on hold for two years.
Mr. Obama's plan, dubbed "Obamacare for the Air" by its critics, was unveiled Monday.
It calls for reductions of as much as 30 percent in carbon-dioxide emissions from coal-fired power plants over 2005 levels, though by some estimates the impact could be as little as 6 percent.
Industry lobbyists call it unreasonable while environmentalists claim it is largely symbolic and won't do enough to slow down climate change.
State-specific rules to enact it are not likely until 2016, and implementation may not start until 2020 with the potential for more delays by legal challenges.
Whatever the outcome, the timing of Mr. Obama's announcement appears to have raised the stakes for Gov. John Kasich as he decides whether to sign Senate Bill 310 into law.
It's a decision some people believe will make the difference between whether northwest Ohio cashes in on a golden opportunity or helplessly watches it slip away.
"Imagine thousands of jobs we can create if we rally around a clean-energy economy," said Steve Melink, president of Melink Corp. in Milford, Ohio, a green-building designer and energy efficiency consultant for major restaurant, retail, supermarket, and hotel chains.
Ohio is one of 29 states with laws that require utilities to invest in or develop renewable power to ensure their sources of energy are more diversified.
Ohio's law, passed by a near-unanimous vote in 2008, went into effect in 2009. It requires at least 12.5 percent of a utility's energy mix to be in renewable energy by 2025, with other benchmarks for energy efficiency.
Senate Bill 310 calls for a two-year timeout.
Mr. Kasich has previously said that he intends to sign that bill, which passed through the Ohio Senate weeks ago and was approved by the Ohio House late last week.
The governor's spokesman, Rob Nichols, declined comment when asked if Mr. Kasich recognizes how his decision now may be more important, given how the Obama plan for coal-fired power plants could open up new markets for renewable energy.
"We don't make policy decisions based on political calculations," Mr. Nichols said.
Northwest Ohio is a leader in renewable energy design, research, project installation, and parts production. The Obama plan is designed to be flexible, giving utilities multiple options to reduce carbon dioxide.
But Ohio is one of the nation's largest energy users and greenhouse gas emitters. It gets about 70 percent of its electricity from coal-fired power plants — the largest source of carbon dioxide.
Several proponents of the Obama plan said that it would inevitably shift Ohio markets more toward natural gas, much of which is being provided in the new era of fracking that got fully under way in the state this year.
The other two potential big winners are renewable energy and energy efficiency — but Senate Bill 310 would complicate that if Mr. Kasich signs it into law, said Steve Frenkel, Union of Concerned Scientists Midwest office director.
"It effectively means Ohio is closed for business on clean energy," Mr. Frenkel said of the bill.
Senate Bill 310 was pushed by Akron-based FirstEnergy Corp., one of the nation's largest utilities and one that gets most of its energy from coal-fired power plants.
Ray Evans, FirstEnergy vice president of environmental and technologies, said the utility is still trying to digest the Obama plan's 1,000-some pages.
At first glance, it doesn't appear too onerous, he said.
FirstEnergy expects to get many credits for its power upgrades at its Davis-Besse nuclear plant in Ottawa County, its Perry nuclear plant east of Cleveland, and its twin-reactor Beaver Valley nuclear complex west of Pittsburgh.
Nuclear is not carbon-free when the complete fuel-to-waste cycle is considered, but those type of plants do not release carbon dioxide during their operation cycle.
The Washington-based Nuclear Energy Institute said the Obama plan could help the nuclear industry, which admittedly has been facing stiff competition from natural gas.
"Our initial inclination is it's something that doesn't look that bad," Mr. Evans said. "At this point, it appears to be flexible enough to work with."
Mr. Evans said the new Obama rule, though, will require better pollution controls for the one remaining unit of FirstEnergy's Bay Shore power plant in Oregon, which is fueled by petroleum coke. The other three units of the plant were fueled by coal. The utility took them out of service in 2012.
He said the utility has not determined what sort of costs to expect as a result of the Obama plan.
Information from the Associated Press was used in this report.
Contact Tom Henry at: thenry@theblade.com or 419-724-6079.
Guidelines: Please keep your comments smart and civil. Don't attack other readers personally, and keep your language decent. Comments that violate these standards, or our privacy statement or visitor's agreement, are subject to being removed and commenters are subject to being banned. To post comments, you must be a registered user on toledoblade.com. To find out more, please visit the FAQ.