Energy industry's layoffs lead to bitterness in work force
8/29/2017
PITTSBURGH — Zach Scott was a year old and his brother was still in the womb when their dad got laid off from Halliburton in 1986, the year after oil prices tanked and ushered in the largest industry downturn until, some argue, the current one.
Within two years, 20 percent of the workers in the oil and gas industry had lost their jobs. Many of them did not return and they discouraged their children from going into the industry.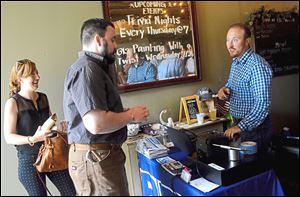 Zach Scott, right, greets Michael Krepsik and Ginger Randall at the Young Professional in Energy gathering at Cobblehaus Brewing Company in Coraopolis, Pa. Mr. Scott has been laid off several times but keeps returning to the oil and gas fields.
Mr. Scott's father did neither of those things. He kept coming back to the oil and gas fields, despite the multiple layoffs that used to count as battle scars for industry veterans.
Cautiously, things appear to be turning up again, leaving companies scrambling for workers and wondering if those they have let go will return. If those former employees don't come back, will the industry be able to recruit the hot-shot smarts it needs to move forward?
At the end of each cycle, about 30 percent of the workers who lose their jobs don't come back, said Tony Angelle, a vice president with Halliburton, an oil service company based in Houston.
Another fraction of the former work force comes back reluctantly, still bitter about having been laid off, he said.
There are people who fall in love with the business and never want to leave, said Jared Oehring, vice president of technology with U.S. Well Services. But if the business — cycles and all — is to be made worthwhile for more than just the diehards, the tradition of oilfield culture needs an upgrade.
Still, the work makes even the diehards think hard.
Mr. Scott is a case in point. Just out of high school in the northern Pennsylvania county of Bradford, his father got him a job at the wash bay of Superior Well Services. It paid $7.25 an hour, $2 more than his gig at the local cemetery. Zach Scott took the job and went on thinking he was going to be a science teacher. Washing trucks turned into an internship doing lab work, then work in the field — logging, blending cement, coordinating hydraulic fracturing jobs.
Superior hired Mr. Scott as an engineer, even though he had no formal engineering training. The hours were tough. In 2009, months after the Great Recession had begun, he got his first taste of the downturn. He was laid off.
As Mr. Scott prepared to go back to school to get his teaching certificate, he heard from a recruiter and eventually accepted a job as a project manager for Pinnacle, a Halliburton company. He left the company in 2013.
He has held other jobs. Eventually he was offered a job with Weatherford, a large oilfield services company. The most recent downturn was under way, and drilling companies were pulling back on their capital budgets. He was hired but again laid off.
"I've got a lot of contacts," he said. "At what point do you just walk away?"
Block News Alliance consists of The Blade and the Pittsburgh Post-Gazette. Anya Litvak is a reporter for the Post-Gazette.