Editorials
For Toledo City Council
These six candidates, both incumbents and challengers, stand out on the Sept. 10 primary ballot
9/1/2013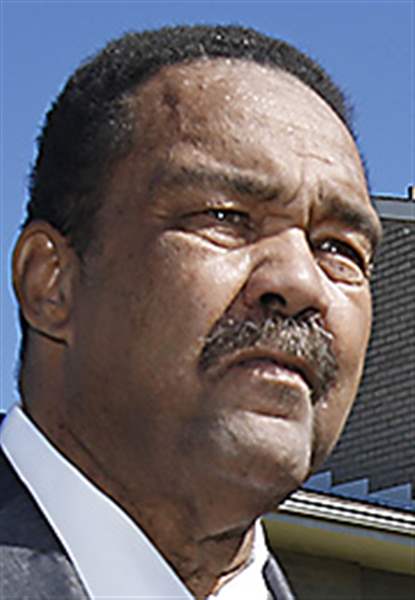 Ford
THE BLADE/DAVE ZAPOTOSKY
Buy This Image
Ford
Like most other central cities, Toledo has experienced setbacks over the past two decades, including the loss of population and major industry. The next City Council will help determine whether Toledo can reverse some of those losses and rebrand itself as a modern midsized metropolis, while remaining a safe, prosperous, and livable community.
Ludeman
This year, voters will elect members to the council's six at-large seats, representing the entire city, with 12 of the 17 candidates advancing from the Sept. 10 primary to the general election.
Click here to read more Blade editorials.
Martinez
Council members serve four-year terms and are paid $27,500 a year for the part-time positions. The council president gets an added $4,500 a year.
Spang
At a pivotal time in Toledo's history, these candidates are best suited to move the city forward:
Nestor
Former Toledo mayor JACK FORD has more than 40 years of experience in state and local government and nonprofit agencies, giving him a deep knowledge of policy issues. A progressive Democrat, Mr. Ford, 66, says he would rather work with Republicans and independents than marginalize them.
Steel
Mr. Ford, who has degrees in law and public administration, understands the roles of City Council and the mayor. He vows not to become a "second mayor."
He founded several nonprofits, including CareNet, that deal with substance abuse, mental health, and health care. As Toledo's first African-American mayor from 2002 to 2006, he showed mettle in enacting a smoking ban.
Mr. Ford has served on the Toledo school board and City Council, including a stint as council president. In 1998, he became minority leader of the Ohio House of Representatives.
In recent years, Mr. Ford has suffered serious health problems, including kidney illness. But his mind is razor sharp and, physically, he's fit to serve.
Mr. Ford says he would focus on housing and reducing blight, especially near central-city schools. He also seeks to better coordinate, among various agencies, services for Toledo's youth.
Most important, he would become a singularly strong voice for poor central-city residents who now have little influence on city government.
Down-to-earth, accessible, and pragmatic, incumbent ROB LUDEMAN is a conscientious, experienced councilman who works well with others. He served as District 2 councilman from 1994 through 2007, and was council president in 2006 and 2007. A moderate Republican, Mr. Ludeman, 60, a real estate agent, was elected to an at-large seat in 2009.
He helped enact the city's controversial smoking ban and, as chairman of the economic development committee, helped secure millions of dollars in federal redevelopment grants.
Mr. Ludeman served on the Lucas County Dog Warden Advisory Committee from 2007 to 2010. As a council member, he helped rewrite Toledo's dog code, which eliminated breed-specific regulations. The local ordinance became a model for the state code.
An advocate of open government, Mr. Ludeman led the fight against the city administration's plan for an across-the-board $200 water security deposit, which Mayor Mike Bell rescinded.
Incumbent ADAM MARTINEZ, 36, has shown that it is possible to be pro-business and pro-neighborhoods. A commercial real estate broker, Mr. Martinez has focused on business development and safe and affordable housing during his council term.
He has a master's degree in organizational leadership and is seeking an advanced degree in urban planning. He is helping to develop a community credit union that would be the first Latino-based credit union in Ohio.
Political newcomer SEAN NESTOR, 28, is running as a Green Party candidate. A systems administrator, he has a passion for neighborhood organization. A Point Place resident, he maintains a downtown storefront for forums, cultural events, and community meetings.
Mr. Nestor says he is not accepting campaign contributions from union or corporate political action committees. Despite the Green Party's reputation for eccentricity in some circles, he would be a breath of fresh air — and stability — on the council.
Toledo businessman SANDY SPANG brings an inspiring and impressive resumé and an informed urban agenda to her first run for political office. An independent, Ms. Spang, 53, owns the Plate 21 coffeehouse in South Toledo, as well as dozens of residential and commercial properties.
She used a city-administered grant in 2009 to help redevelop a blighted strip mall in South Toledo's Beverly neighborhood. Plate 21 won an award in 2011 from the American Institute of Architects.
Ms. Spang says she would encourage commercial property owners with vacant buildings to market their properties, especially to young entrepreneurs.
Perhaps more than any other council candidate, Ms. Spang, who has a bachelor's degree in fine arts, understands the importance of attracting young people to the central city and maintaining the amenities it takes to keep them: good mass transit; safe, walkable, and attractive neighborhoods, and vibrant arts and entertainment venues.
She would push city government to use technology better, equipping police officers with body cameras. She is open to examining the best practices of other successful mid-sized cities, such as Chattanooga, Tenn., to determine whether they could benefit Toledo.
An advocate of transparency, Ms. Spang said the city should consider broader local sunshine laws, if the public has a systemic problem getting information from local government.
Energetic and engaging, Ms. Spang is well-versed on city issues and would make an immediate difference.
Incumbent STEVEN STEEL, 51, a faculty member at the University of Toledo, has earned a new term. A former president of the Toledo school board, Mr. Steel was appointed to City Council in 2009.
On the council, Mr. Steel has focused on issues related to the municipal budget, small business, and public safety, especially domestic violence. He is one of the leading advocates of the city park system.
Several other Council candidates deserve voter attention. Shaun Enright, who was appointed to the council in January, is growing into the job. Theresa Gabriel has given decades of public service to the city. Larry Sykes has also served the city for many years, most recently on the school board. Ernest McCarthy and Ron Johns are political neophytes, but both care passionately about their city.
Bright and engaging, Alfonso Narvaez, and James Martin are two young Republican candidates with great potential. Mr. Narvaez, a college student, grew up in North Toledo and has a ground-level knowledge of urban and neighborhood issues. Mr. Martin, a computer consultant, former rock musician, and community college student, understands how technology and young people can shape Toledo's future.
James Nowak and Joe Celusta, both Republicans, are moderate candidates with a sincere desire to serve. Mr. Celusta, a former energy manager, is concerned about Toledo's dwindling manufacturing base and what he calls the council's lack of responsiveness to business and residents.
Mr. Nowak, an attorney and president of a neighborhood business association, says he wants city government to be more user-friendly in service delivery.