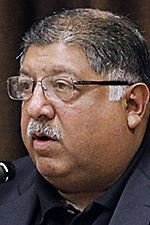 Vasquez
The election of D. Michael Collins as mayor of Toledo created a vacancy in the City Council seat he formerly held in South Toledo's District 2. Voters will fill that position in a special election May 6; The Blade recommends that they select Democrat BOB VASQUEZ.
Mr. Vasquez, 61, would bring to the council budgetary experience, fresh ideas, and a willingness to collaborate. A member of the Toledo Board of Education since 2008, he served effectively as board president during a tumultuous financial time for Toledo Public Schools. He helped negotiate concessions with district unions to address budget shortfalls caused by the recession.
Click here to read more Blade editorials.
Mr. Vasquez calls for making the council's approval of the city budget a continuing process of public review and debate, rather than the kind of 11th-hour scramble it became this year. He is properly skeptical of the city's practice in recent years of shifting money from its capital-improvements fund to help balance its operating budget.
He says an improved system of public education is essential to Toledo's economic recovery, and calls on city and TPS officials to work together to establish creative solutions for the school district. He also places an appropriately high priority on public safety services and road and infrastructure improvements.
Mr. Vasquez laments that the mayor traditionally sets the city's agenda, and the council merely reacts to it. He says council members should also develop policy on budget and operating issues. Mr. Vasquez has a record of advocating regional cooperation among local government, business, organized labor, and nonprofit and community groups. He pledges to enhance citizen engagement and transparency in city government.
The winner of next month's election will serve through the end of 2015. The District 2 seat is now held on an interim basis by Matt Cherry, 33, a business agent for Sheet Metal Workers Local 33.
The Lucas County Democratic Party successfully proposed that Mr. Cherry fill the temporary vacancy largely on the strength of his labor ties. He is seeking election to the permanent seat, but during his brief tenure on the council, he has displayed neither extensive leadership skills nor a broad economic and social vision for improving life in District 2 and the city.
Also on the ballot is independent Marcia Helman, 63, who owns an ice cream parlor. Her business experience is appealing, and she understands the importance of improving neighborhood services and building the city's brand.
Ms. Helman is passionate about serving South Toledo, where she has spent her entire life. But she lacks ideas, within a long-term perspective, for advancing the city as a whole.
Republican Joe Celusta, 50, is a former business executive and the grandson of a Toledo mayor during the 1950s. He ran unsuccessfully for an at-large council seat last year, finishing out of the money in November's general election.
Mr. Celusta speaks wistfully of what a great city Toledo was during his grandfather's tenure. He offers far fewer ideas about how to prepare Toledo for a prosperous future.
BOB VASQUEZ is the best qualified candidate for the District 2 seat. He has earned election.
Guidelines: Please keep your comments smart and civil. Don't attack other readers personally, and keep your language decent. Comments that violate these standards, or our privacy statement or visitor's agreement, are subject to being removed and commenters are subject to being banned. To post comments, you must be a registered user on toledoblade.com. To find out more, please visit the FAQ.