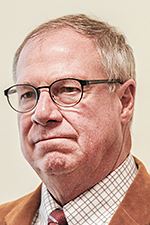 Collins
THE BLADE/JETTA FRASER
Enlarge | Buy This Image
A recent state audit found that the Toledo-Lucas County Homelessness Board — the agency charged with overseeing homeless shelters and homelessness prevention — is incapable of managing money and accurate record keeping. It is a prudent — and overdue — move by the board to relinquish administrative duties to Toledo's Department of Neighborhoods.
This is another opportunity for Toledo Mayor D. Michael Collins to make good on his campaign promise to restructure the way city government deals with homeless shelters and sets anti-homelessness policy in general. With the neighborhoods department in charge, effective July 1, Mayor Collins will have direct oversight of how the federal money used to combat homelessness is spent.
Click here to read more Blade editorials.
At least initially, Mr. Collins needs to become a watchdog. The board has been mired in controversy since 2007. Turf wars, missing money, and funding cuts have hindered local shelters that have still managed to do a commendable job of serving the homeless. The good news is that relationships between the various agencies that serve Toledo's homeless, including the United Way of Greater Toledo, are far better than they were a year ago.
Still, it's certainly not comforting that city Neighborhoods Director Tom Kroma said last week that he was unaware of the audit or of any changes to the contractual relationships among the city, the homelessness board, and the shelters. Mayor Collins needs to get him up to speed, and quickly. The homelessness board surrendered control in a May 29 letter, yet Mr. Kroma has downplayed the shakeup, characterizing it as an attempt to streamline monthly payments.
City officials must correct the deficiencies exhibited by the homelessness board. The audit noted that the agency spent money beyond allowable limits, missed documentation, and submitted a late 2010 internal audit. In all, the state agency listed $99,368 in "questioned costs."
Accurate bookkeeping and money management must be the first priority under the new system. The U.S. Department of Housing and Urban Development will only play ball for so long before it yanks its already-dwindling funding.
The audit should be viewed as another opportunity to improve. During the campaign, Mayor Collins was quick to criticize former Mayor Mike Bell's handling of homelessness dollars, charging that nearly 60 percent of federal funds were used to pay for positions in the administration and on the homelessness board. He pledged change.
That change needs to start July 1 by making the city's Department of Neighborhoods policies more responsive, open, and accountable.
Guidelines: Please keep your comments smart and civil. Don't attack other readers personally, and keep your language decent. Comments that violate these standards, or our privacy statement or visitor's agreement, are subject to being removed and commenters are subject to being banned. To post comments, you must be a registered user on toledoblade.com. To find out more, please visit the FAQ.