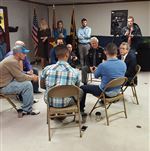 Ohio Attorney General Michael DeWine spent a day in Toledo last week, speaking with members of the Drug Abuse Response Team, run by the Lucas County Sheriff's Office, as well as with several recovering addicts whom the unit had helped.
THE BLADE
Enlarge | Buy This Image
Ohio Attorney General Michael DeWine spent a day in Toledo last week, speaking with members of the Drug Abuse Response Team, run by the Lucas County Sheriff's Office, as well as with several recovering addicts whom the unit had helped. Mr. DeWine liked what he saw. In fact, he said "wow" at least a dozen times.
As Ohio's epidemic of addiction grows even more lethal, the state will need more units like DART. Mr. DeWine, the state's top law enforcement official, should continue to use his bully pulpit to encourage other police agencies around the state to adopt similar strategies. DART works directly with addicts and steers low-level drug offenders into treatment.
Click here to read more Blade editorials
"It's a great example of how law enforcement can take a holistic approach to the drug problem and really make a difference," Mr. DeWine told The Blade's editorial page. "We have a model that other departments could use."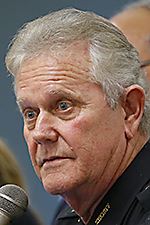 Tharp
Money, of course, is always a problem, but local business people can help. Lucas County Sheriff John Tharp, who launched DART in July, 2014, has raised about $100,000 for the unit from the private sector. On Thursday, Brondes Ford donated a vehicle to the unit. Communities around the state can do the same.
Sheriff Tharp wants to expand the unit from 13 members to 20. On the same day, Mr. DeWine was in Toledo, the Lucas County coroner's office released startling statistics for 2015 on fatal overdoses in the Toledo area.
Experts had hoped that 2015 would be the year that Ohio's opioid epidemic plateaued, after years of exponential growth. Instead, 2015 marked the resurgence of fentanyl, a super potent painkiller. Last year, more fentanyl cases were submitted by law enforcement for testing in state crime labs than in the previous five years combined, said Eve Mueller, a spokesman for Mr. DeWine.
Before last year, heroin was occasionally laced with fentanyl to boost the product. Few, if any, users were dying of fentanyl alone, without heroin.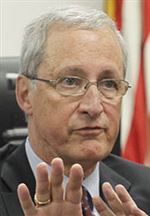 Forney
In 2015, however, the Toledo area recorded 65 fatal overdoses from fentanyl without heroin, and another 149 that were heroin-related, some of them also involving fentanyl, Dr. Robert Forney, Lucas County's chief toxicologist, told The Blade's editorial page. That brought last year's total for opioid-related fatal overdoses to 214, an increase of nearly 50 percent from the previous year.
Even so, last year's increase was far lower than in previous years. In 2013, Dr. Forney's office reported 80 heroin-related fatal overdoses in the Toledo area, compared to 31 in 2012, 15 in 2011, and eight in 2010.
In 2014, the number of heroin-related fatal overdoses nearly doubled again to 145. Statistics for fatal overdoses cover a 21-county region, but Lucas County reports more than half of them.
Lucas County's DART unit shows how law enforcement, as first responders, can get directly involved with treating addiction. Speaking to Mr. DeWine, three recovering addicts credited DART with saving their lives. DART officers, they said, stayed in contact with them, even when they rejected their help. And when they were ready for help, DART officers were there to support them and help them get treatment. These officers changed, forever, how they looked at law enforcement.
In less than two years, DART officers have met with more than 1,000 people, often meeting overdose victims at hospitals. They have learned how to gain the trust of people who had never trusted police officers before. Deputies Damian Worthy and Charles Johnson have been with DART since it started, becoming leaders in this community's battle against addiction.
The unit also includes Lt. Robert Chromik; counselors Tamme Smith and Katelyn Ybarra; and deputies Joe Navarre, Dennis Whaley, Shawn McMahon, and Jeremy Pierson. They are joined by Lt. Tressa Johnson of the University of Toledo Police Department, Officers Angel Tucker and Michael Worden of the Oregon Police Department, and Officer Charlie Free of the Mercy Hospital Police Department.
These men and women have given Ohio and the nation a new model for how law enforcement can, in fighting drug abuse and addiction, do far more than arrest people.
Guidelines: Please keep your comments smart and civil. Don't attack other readers personally, and keep your language decent. Comments that violate these standards, or our privacy statement or visitor's agreement, are subject to being removed and commenters are subject to being banned. To post comments, you must be a registered user on toledoblade.com. To find out more, please visit the FAQ.