A slice of carrot cake.
THE BLADE/JEREMY WADSWORTH
Enlarge | Buy This Image
I was out of my league.
We had been invited to a dinner party by my sister-in-law-in-law (my brother's wife's sister). Though there were just 10 of them, three of the guests were doctors — one a surgeon — two were librarians, one a retired Ford executive, one an entrepreneur, and a former chief justice of a state supreme court.
The company was daunting. But I had a secret weapon: the best carrot cake in the world.
The dinner was pot luck, and with a group like that you knew the food was going to be excellent. But if I couldn't compete with the guests in other ways, at least I could wow them with my cooking.
I brought out the biggest gun in my arsenal, the Commissary Carrot Cake from The Frog/Commissary Cookbook. It is the most requested of all the dishes I make, and I am world famous for it (I have a friend in Germany whom I have told about the cake. To my way of thinking, that makes it world famous).
Nightingales sing their song about this cake, artists paint tribute to it. And when cardiologists watch someone eat it, it sends their hearts aflutter.
It is not the healthiest of foods. The secret ingredient is calories, with more stuffed into each sinful slice than you might think possible. Nor is it easy to make, requiring several distinct steps and hours of your time. When done right, it should be made and assembled over two days.
For these reasons, I usually make it sparingly, for special occasions. A wedding shower. A birthday. A going-away party. Or a dinner with a former chief justice of a state supreme court.
The Frog/Commissary Cookbook, named for the two restaurants that provided the recipes, has been one of my favorites for years. The first time I ever went to Philadelphia, I made certain to go to The Commissary for lunch (Frog had already closed; the Commissary would follow in a year or two). I asked a random man at my hotel if he were familiar with the restaurant, and he said, "Yes, and if you don't get the carrot cake, I don't know what's wrong with you."
At that point, I had not even noticed the carrot cake recipe in the book, but on his somewhat unusual recommendation I decided to try a slice at the restaurant.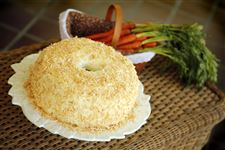 Carrot cake.
THE BLADE/JEREMY WADSWORTH
Enlarge | Buy This Image
I was not disappointed.
I don't know how many times I have made the cake since then, and I have never had a problem with it. That, to me, is the working definition of the term "foolproof."
Unfortunately, any cake this irresistible to eat is also irresistible to eat while you are making it. And so much good, gooey stuff goes into it that you will find yourself dipping a spoon (possibly, but we really know it will be your finger) into all the various components while you cook. Don't try to fight the temptation; yield, and yield happily. If you are the one making it, you may as well be the one sampling the best parts.
The most astoundingly, amazingly, incredibly rapturous part of this cake is the filling. It may be the Best Food Ever, and I can't think of anything else that comes close. It is a simple mixture of butter (a lot of butter), cream (a lot of cream), sugar (a lot of sugar), and flour (not so much), heated together with a bit of salt until golden brown and then flavored with pecans and a good dose of vanilla.
It is ambrosia. It is the nectar of the gods. And every slice of the cake has two not-very-thin layers of it, spread between thicker layers of the cake. The cookbook says that any leftover filling would make a great topping for ice cream, but let's be serious: You and your family or friends will finish it off right out of the pan.
Every bit as tempting, and possibly even more caloric, is the frosting. It is a simple cream-cheese frosting, but made in perfect proportion: a half-pound of butter, a half-pound of cream cheese, a pound of confectioners' sugar, and a teaspoon of vanilla. The recipe is easy to remember, easy to make, and impossible to improve.
And yes, that was a half-pound of butter. This is an insanely rich cake. All told, it takes 3½ sticks of butter, plus 1½ cups of heavy cream, piles of sugar, loads of pecans, a heap of raisins, and 1¼ cups of oil to keep it deliciously moist. And although it does include a pound of carrots, they are there more for flavor than any nutritional value.
All those ingredients make an unusually large cake. Officially, it produces 16 servings, but you might find you get even more than that out of it. Of course, this is also a cake that people feel the need to trim the edges of to make them even or to find other ways to take little nibbles off of it.
The recipe's authors, incidentally, recommend reserving some frosting, dying it with orange and green food coloring, and whimsically piping out images of carrots on the top of the cake. I've never done that. The best carrot cake in the world doesn't need whimsy.
Contact Daniel Neman at: dneman@theblade.com or 419-724-6155 or on Twitter @bladefeatures.
RECIPE
Commissary Carrot Cake
Pecan Cream Filling:
1½ cups sugar
¼ cup flour
¾ teaspoon salt
1½ cups heavy cream
6 ounces (1½ sticks) unsalted butter
1¼ cups chopped pecans
2 teaspoons vanilla extract
Carrot Cake:
1¼ cups corn oil
2 cups sugar
2 cups flour
2 teaspoons cinnamon
2 teaspoons baking powder
1 teaspoon baking soda
1 teaspoon salt
4 eggs
1 pound carrots, peeled and grated
1 cup chopped pecans
1 cup raisins
Cream Cheese Frosting
8 ounces (2 sticks) soft, unsalted butter
8 ounces soft cream cheese
1 pound powdered sugar
1 teaspoon vanilla extract
Assembly:
4 ounces shredded, sweetened coconut (1½ cups)
Cook's note: This cake is most easily made if you start it at least a day ahead, since the filling is best left to chill overnight. In fact, the different components can all be made even several days in advance and stored separately until you are ready to assemble the cake.
■ Pecan Cream Filling:
In a heavy saucepan, blend well the sugar, flour, and salt. Gradually stir in the cream. Add the butter. Cook and stir the mixture over low heat until the butter has melted, then let simmer 20-30 minutes until golden brown in color, stirring occasionally (do not allow to burn).
Cool to lukewarm. Stir in the nuts and vanilla. Let cool completely and then refrigerate, preferably overnight. If too thick to spread, bring to room temperature before using.
■ Carrot Cake:
Preheat the oven to 350°. Have ready a greased and floured 10-inch tube cake pan. In a large bowl (it is easiest to use the bowl of a stand mixer), whisk together the corn oil and sugar. Sift together the flour, cinnamon, baking powder, baking soda, and salt. Sift half the dry ingredients into the sugar-oil mixture and blend. Alternately sift in the rest of the dry ingredients while adding the eggs, one by one. Combine well. Add the carrots, pecans, and raisins. Pour into the prepared tube pan and bake for exactly 70 minutes.
Cool upright in the pan on a cooling rack. If you are not using the cake that day, it can be removed from the pan, wrapped well in plastic wrap and stored at room temperature.
■ Cream Cheese Frosting:
Cream the butter well. Add the cream cheese and beat until blended. Sift in the sugar and add the vanilla. If too soft to spread, chill a bit. Refrigerate if not using immediately, but bring to a spreadable temperature before using.
■ Assembly:
Preheat the oven to 300°. Spread the coconut on a baking sheet and bake for 10-15 minutes until it colors lightly. Toss the coconut occasionally while it is baking so that it browns evenly. Cool completely. Have the filling and frosting at a spreadable consistency.
Loosen the cake in its pan and invert onto a serving plate. With a long, serrated knife, carefully split the cake into 3 horizontal layers (keep the cake flat while doing this). Spread the filling between the layers. Spread the frosting over the top and sides. Pat the toasted coconut onto the sides of the cake.
If desired, reserve ½ cup of the frosting and color half with green food coloring and half with orange. Then decorate the top of the cake with green and orange icing piped through a 1/​16th-inch wide, plain pastry tube to resemble little carrots.
Serve the cake at room temperature.
Notes: The assembled cake can be refrigerated for up to 48 hours. It also freezes very well. You can substitute 4 cups of unpeeled, grated apples or zucchini for the carrots. The batter can also be baked as cupcakes, loaves, sheet cake, or petits fours. Any leftover filling makes a wonderful ice cream topping if you warm it slightly first.
Yield: 16 servings; Source: The Frog/​Commissary Cookbook, by Steven Poses, Anne Clark, and Becky Roller
Guidelines: Please keep your comments smart and civil. Don't attack other readers personally, and keep your language decent. Comments that violate these standards, or our privacy statement or visitor's agreement, are subject to being removed and commenters are subject to being banned. To post comments, you must be a registered user on toledoblade.com. To find out more, please visit the FAQ.