A Braeburn apple tart with brown sugar.
The Blade/Katie Rausch
Enlarge | Buy This Image
Honey Crisp apple salad with celery, red onions and Parsley.
The Blade/Katie Rausch
Enlarge | Buy This Image
Sometimes, the legends are true. There really was a man called Johnny Appleseed, and he really did wander the frontier, planting apple seeds wherever he went.
Largely because of his efforts, apples — a fruit native to Asia and widely grown in Europe — became one of the most popular fruits in America. But still, when you think about it, there must have been some madness to him. Why would anyone walk around unsettled territories, planting apple trees?
It turns out the truth is both greater and lesser than the myth. John Chapman — born in 1774 in Massachusetts, died in 1845 near Fort Wayne — did indeed walk (almost always barefoot and sometimes wearing a coffee sack) throughout Pennsylvania, Indiana, and Ohio, including the area around what is now Toledo, planting apple trees from seed.
According to the seminal book Johnny Appleseed: A Voice in the Wilderness, just about everyone who met him found him eccentric, at least in his clothing and his sometimes bizarre lifestyle. But he was also almost universally liked and admired.
And while the popular image is of him dropping apple seeds wherever he went, he actually cleared land and planted apple-tree nurseries wherever he thought pioneers might move next. Part of the year was spent planting new nurseries, and part of it tending to the ones he had already grown. When the settlers moved nearby a year or two later, he could sell them apple-tree seedlings, which they then planted on their farms.
It was a business, but it was more than that. Chapman took the money he earned in that manner and bought pamphlets and publications about the Swedenborgian Church, of which he was, in his own way, an ardent missionary.
Apple growers and horticulturalists will tell you that apple trees grown from seeds are wildly unpredictable, and that their fruit is usually sour and unfit to eat. But Johnny Appleseed was not interested in the sweet apples we eat today, the trees for which are created through grafting. In the early 1800s, apples were generally only used to make cider. The cider was allowed to ferment, creating a drink easier and safer to make than whiskey.
Pork chops with Braeburn apples.
The Blade/Katie Rausch
Enlarge | Buy This Image
Crazy Johnny Appleseed was bringing alcohol to the frontier. In other words, though this be madness, yet there was method in it.
It is thus in the spirit of Johnny Appleseed, and in appreciation of his introducing apple trees to this region, that I set out to cook dishes with apples as a main ingredient. Also, apples are so abundant right now that you can't stroll through a grocery store or produce market without walking knee-deep through them.
I first thought to make a main course with pork, knowing how well the subtle sweetness of the meat complements the tart sweetness of the fruit. Dijon mustard was a given with such a combination, and I knew I would have to use apple cider as at least part of the liquid for a sauce.
That only left the question of which spice to use to tie it all together. Thyme was my first thought — it is a natural accompaniment to all three of the major flavors in the dish: pork, apples, and mustard. Cinnamon, too, is an automatic flavor enhancer for apples, especially with a touch of cloves.
But those are too ordinary, too expected. Johnny Appleseed would never cook his pork and apples with thyme or cinnamon, although as a vegetarian he would never eat pork, anyway.
So I turned to the Alsatian heritage of my wife and decided instead to use caraway seeds. They lend an indefinable bite to the sauce, an earthy counterpoint to the sweet apples and pork. And finally, to finish the dish I added just a touch of cider vinegar to clarify and enhance the other flavors.
That worked so well, I decided to try another unusual application for apples. Using a recipe from Cooking Light as my guide, I put them in a salad with celery, parsley, and a lemon vinaigrette.
Think of it as a Waldorf salad without the mayonnaise. Apples and celery are a popular combination that go together like an old, married couple. The parsley keeps it grounded, while the lemon vinaigrette ties it together and makes it all pert and light.
If you don't mind a few extra calories, a handful of toasted walnuts will only make it even better. Or you could put the apple salad on a base of lettuce and to it all with a cooked, sliced chicken breast for a delightful main course.
Yielding to the primary use of cooked apples, my last three recipes are all desserts. The richest of these, and most caloric, is amazing. It is an apple tart that I put inside a pie crust, so I suppose it is technically an apple pie. Either way, it has a custard base that is topped with sliced apples, and one thing we know for certain is that almost any kind of pie tastes better when there is custard involved.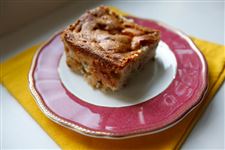 A slice of apple cake.
The Blade/Katie Rausch
Enlarge | Buy This Image
This one is sinful, which is usually the case whenever you mix butter, eggs, sugar, and vanilla. And because I used a pre-made pie crust instead of the laborious (but great-looking) tart shell called for in the recipe, it is easy and fast to make — though it does take an hour to bake. While it is baking, I recommend licking the bowl and the beater and the spatula and the spoon. The uncooked custard is almost as good as the pie itself, but the crust makes it transcendent.
I also made two other desserts, an apple-cinnamon coffee cake and a cinnamon-apple cake. Because they have most of the same ingredients in common, you might think they would be similar, but in fact they are quite different.
The cinnamon-apple cake has a light texture and is quite moist, because of the addition of cream cheese. You don't taste the tang of the cream cheese, you only sense the richness, which is good because this elegant cake does not have frosting. It does not need it. It's light and delicate and delicious just as it is.
The apple-cinnamon coffee cake is also excellent. Perhaps a bit denser, it tastes more of cinnamon than the other cake. Part of the reason for that is the sweet and cinnamony streusel scattered on top, which is what makes it a coffee cake.
But it is the apples that are the basis for both cakes. Anything else on top of them is just — streusel.
Contact Daniel Neman at: dneman@theblade.com or 419-724-6155.
RECIPES
Celery-Apple Salad
2 tablespoons extra-virgin olive oil

2 tablespoons fresh lemon juice

¼ teaspoon kosher salt

¼ teaspoon pepper

2 cups thinly sliced Honey Crisp apple

2 cups sliced celery

½ cup loosely packed fresh flat-leaf parsley

½ cup sliced red onion
Whisk together oil, lemon juice, salt, and pepper until emulsified (thoroughly blended and thickened). Add apple, celery, parsley, and onion. Toss. Serve as is for a side salad or place on top of a bed of lettuce and add half of a sliced, cooked chicken breast.
Yield: 6 servings; Source: Cooking Light
Pork Chops with Apple
4 pork chops
Salt and pepper
½ cup apple cider
½ cup chicken broth
1 teaspoon Dijon mustard
2 tablespoons oil
½ small onion, sliced thin
1 tart apple, such as Granny Smith, sliced
¼ teaspoon caraway seeds
1/​8 teaspoon (2 pinches) salt
1 teaspoon apple cider vinegar
Season pork chops with salt and pepper. Combine apple cider and chicken broth, and whisk in mustard until thoroughly mixed; set aside.
Heat oil in a large skillet over medium-high heat. Sear chops until golden brown on both sides. Remove to a plate. Add onion and cook, shaking pan, for 1 minute. Add the cider mixture and deglaze pan by scraping up any brown bits on the bottom. Cook until liquid reduces by half.
Return pork chops to the pan; add apple slices, caraway seeds, and salt. Reduce heat to medium-low, cover, and cook until pork is done, 3-5 minutes. Stir in vinegar, test for seasonings, and serve.
Yield: 4 servings; Source: Daniel Neman
Brown-Butter Apple Pie
2 sticks unsalted butter
1 vanilla bean
4 eggs, large
1 cup granulated sugar
½ cup flour
½ teaspoon kosher salt
3 semi-tart apples, such as Granny Smith, Braeburn, or Pink Lady
1 pie crust, see cook's note
Cook's note: This recipe was originally written to be a tart; simply use a tart crust and a tart pan if you wish. Otherwise, use a homemade or frozen pie crust.
Preheat oven to 350°.
Melt the butter in a small saucepan over medium heat. While it melts, slice the vanilla bean in half lengthwise with a paring knife, split each half open, and use the knife to scrape out the seeds from both halves. When the butter has melted, add the scraped seeds and the vanilla bean pod. Continue to cook, swirling the pan often, until the butter foam subsides and becomes deeply brown, about 5 minutes. Remove from heat and set aside for 10 minutes to cool.
While the butter cools, whisk together the eggs and sugar in a medium bowl. Remove the vanilla bean pods from the butter and slowly add the butter to the egg-sugar mixture, whisking constantly. Use a rubber spatula to scrape all the seeds out of the pan and into the egg-sugar mixture. Add the flour and salt and whisk until smooth.
Peel and core the apples, and then slice them into ¼-inch rounds. Arrange the apple rounds in the pie crust in a slightly overlapping concentric circle, placing a few apples in the center of the tart after the outer ring is complete (this may not take all of the apples). Slowly pour the filling over the apples. The filling is thick, so give it time to seep down into the crevasses between each apple slice, adding enough filling to come within ¼ inch of the top of the crust (this may not take all of the filling).
Place the pie pan on a baking sheet (a piece of parchment paper between them will help in clean-up), and place the baking sheet and pie into the oven. Bake until the apples are deep golden brown and the filling is set in the center, about 1 hour. Remove the baking sheet from the oven and transfer the pie in the to a wire rack. Cool for 2 hours. Serve warm or at room temperature.
Yield: 1 pie; Source: Adapted from Tasting Table by Mika Paredes
Cinnamon-Apple Cake
1¾ cups sugar, divided
¾ cup (6 ounces) cream cheese, softened
½ cup (1 stick) butter, softened
1 teaspoon vanilla extract
2 large eggs
1½ cups all-purpose flour
1½ teaspoons baking powder
¼ teaspoon salt
2 teaspoons ground cinnamon
3 cups chopped Rome apple (about 2 large)
Preheat oven to 350°.
Beat 1½ cups sugar, cream cheese, butter, and vanilla at medium speed of a mixer until well-blended, about 4 minutes. Add eggs, 1 at a time, beating well after each addition. Set aside.
Lightly spoon flour into dry measuring cups; level with a knife. Combine the flour, baking powder, and salt. Add flour mixture to creamed mixture, and beat at low speed until blended. Combine ¼ cup sugar and cinnamon. Combine 2 tablespoons of the cinnamon mixture and apple in a bowl; stir apple mixture into batter. Coat an 8-inch springform pan or a 9-inch-square pan with cooking spray, and pour batter into it. Sprinkle with remaining cinnamon mixture.
Bake 1 hour and 15 minutes (or 1 hour and 10 minutes if using the 9-inch-square pan) or until cake pulls away from the sides of pan. Cook completely on a wire rack, and cut using a serrated knife.
Yield: 12 servings; Source: Cooking Light
Apple-Cinnamon Coffee Cake
1½ cups all purpose flour
1 cup granulated sugar
1½ teaspoons baking powder
1½ teaspoons ground cinnamon
½ teaspoon salt
¾ cup low-fat milk
2 tablespoons butter, melted
1 teaspoon vanilla extract
1 large egg, lightly beaten
1 cup diced peeled Granny Smith apple (about 1 apple)
Streusel:
¼ cup packed brown sugar
2 tablespoons all-purpose flour
½ teaspoon ground cinnamon
2 tablespoons chilled butter, cut into small pieces
Preheat oven to 350°.
To prepare cake, lightly spoon 1½ cups flour into dry measuring cups; level with a knife. Combine flour, sugar, baking powder, cinnamon, and salt in a large bowl, stirring with a whisk. Make a well in the center of the mixture. Combine milk, melted butter, vanilla, and egg, stirring with a whisk. Add to flour mixture, stirring just until moist. Fold in apple. Pour batter into an 8-inch square baking pan coated with cooking spray.
To prepare streusel, combine brown sugar, 2 tablespoons flour, and ½ teaspoon cinnamon; cut in butter with a pastry blender or 2 knives until mixture resembles coarse meal. Sprinkle streusel evenly over batter. Bake 45 minutes or until a toothpick inserted in the center comes out clean. Cool 10 minutes before serving. Serve warm.
Yield: 12 servings; Source: Cooking Light
Guidelines: Please keep your comments smart and civil. Don't attack other readers personally, and keep your language decent. Comments that violate these standards, or our privacy statement or visitor's agreement, are subject to being removed and commenters are subject to being banned. To post comments, you must be a registered user on toledoblade.com. To find out more, please visit the FAQ.