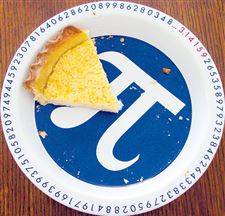 Sunshine pie.
THE BLADE/MARY BILYEU
Enlarge | Buy This Image
Pi Day is Friday. That's March 14 or, more precisely, 3.14.
It's a celebration for mathematicians, bakers, and food lovers everywhere. The traditional way to celebrate is by eating pie, of course. You might also try to recite pi between bites of pie, but that's a pretty difficult task. According to PiDay.org, "Pi has been calculated to over one trillion digits beyond its decimal point."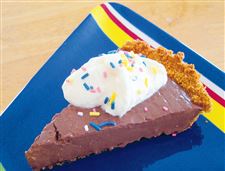 THE BLADE/MARY BILYEU
Enlarge | Buy This Image
Paul Hewitt, chair of the Department of Mathematics and Statistics at the University of Toledo, says that "Pi is a good choice" for a celebration, as it is so "accessible." It's a "fundamental constant," and even those of us who aren't mathematicians are familiar with it because it is so distinctive and memorable from our school days. Despite having majored in English rather than in math, I use pi on a regular basis when I'm adapting recipes and trying to accommodate alternate baking pans; I need to calculate areas and volumes, and pi is — shall we say? — an essential ingredient in my work.
With regard to Friday's festivities, according to Wikipedia, the "earliest known official or large-scale celebration of Pi Day was organized by Larry Shaw in 1988 at the San Francisco Exploratorium, where Shaw worked as a physicist, with staff and public marching around one of its circular spaces, then consuming fruit pies." Princeton University holds an annual party with events ranging from a "pizza pi" competition to pie eating and throwing contests, and even an Albert Einstein look-alike competition in honor of the physicist whose birthday was March 14.
Pi Day, which happens to be Mr. Hewitt's father's birthday, the UT math department will honor the day for the first time, though the specifics are still to be determined.
Because Friday is about honoring pi and eating pie, so today I'm offering two sweet options as well as a savory one for Pi Day; not everyone has a sweet tooth, after all, incomprehensible as that is to someone like me who has 32 of them rather than just one. You could even ramp up the festivities by serving a pie for the main course as well as another variety for dessert ... why not?
To say that the S'mores Pie is rich is like saying that I like to eat — absolutely and utterly obvious. Be sure to offer small servings of this luscious, creamy treat that was devoured at my house; my boyfriend, Craig, told me that it has now set the standard for pie. The Sunshine Pie, with a filling that's bright in both color and flavor, is a lighter option that is really delicious. It can be made with a pre-made pie crust if you're in a rush, but a homemade one is preferred; I'd rather you make it than quibble over the details, though.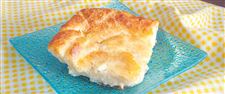 Cheese Pie (Tiropita)
THE BLADE/MARY BILYEU
Enlarge | Buy This Image
Finally, there is an airy, souffle-like Simple Cheese Pie from the award-winning cookbook Olives, Feta, Phyllo & More, produced by Holy Trinity Greek Orthodox Cathedral. It's crustless, though the edges crisp up nicely, so there's no rolling of dough; it appears to be very basic, but it is exceptionally good. The pie is baked in a square pan because ... well ... you know, π r ². (Where's a giggling emoticon when you need one?)
Contact Mary Bilyeu at mbilyeu@theblade.com or 419-724-6155 or on Twitter @foodfloozie.
RECIPES
crust:
16 graham cracker squares, crushed into crumbs
1/4 cup sugar
1/3 cup butter, melted
Preheat oven to 350F. Combine all crust ingredients and press into a greased 10" pie pan. Bake for 15 minutes, then let cool.
filling:
1/4 cup cornstarch
1/3 cup sugar
3 tablespoons cocoa powder
pinch of kosher salt
2-1/2 cups fat free half-and-half
6 ounces semi-sweet chocolate chips
splash of vanilla extract
topping:
1/2 cup marshmallow fluff
4 tablespoons confectioners' sugar
1 cup whipping cream
sprinkles, optional
Smores Pie
Place cornstarch, sugar, cocoa powder, and salt into a medium saucepan; slowly whisk in half-and-half. Bring to a boil over medium-high heat, then cook — whisking constantly — just until thickened like pudding. Remove from heat.
Stir in chocolate chips and vanilla until mixture is smooth, then pour filling into crust. Press plastic wrap against the filling to keep it from forming a skin, then refrigerate for at least 2 hours.
Topping:
Beat the marshmallow fluff, confectioners' sugar, and whipping cream together until thick and the whipped cream holds peaks. Place a generous dollop of whipped cream on each slice of pie as it's served, and top with sprinkles if desired.
Makes 10-12 servings.
Sunshine Pie
crust:
1-1/4 cups flour
1/8 cup brown sugar
pinch of kosher salt
1/4 cup shortening
3 tablespoons cold water
filling:
2 eggs
3/4 cup sugar
3 tablespoons flour
2 tablespoons butter, melted
zest and juice of 1 small orange
zest and juice of 1 lemon
pinch of kosher salt
1 cup 1/2% milk
Adapted from a recipe for Lemon Sponge Pie in Marcia Adams' Cooking from Quilt Country
Preheat oven to 425F. On a lightly floured surface, roll dough out to a 14" circle. Fold in half, then in half again, to easily place the dough into a 9" deep dish pie pan. Unfold the dough, press into pan, and trim crust to the edge of the pan. Form a decorative border.
In a large mixing bowl, mix together the eggs, sugar, flour, butter, orange zest and juice, lemon zest and juice, salt, and milk. Pour filling into crust. Bake for 10 minutes, then reduce heat to 350F; bake for 15-20 more minutes until filling is almost set when pie is lightly jiggled. Let cool completely before cutting.
Makes 8-10 servings.
Simple Cheese Pie (Tiropita)
1-1/2 cups 1/2% milk
1-1/2 cups all-purpose flour
1/2 teaspoon kosher salt
generous sprinkling of freshly ground black pepper
2 eggs
3/4 cup light-flavored olive oil
3/4 cup low-sodium Feta cheese, crumbled
Adapted from a recipe by Ursula Xanthakos in Olives, Feta, Phyllo & More: Classic & Contemporary Greek & American Cuisine
Preheat oven to 375F. Grease an 8"x8" baking dish.
In a large mixing bowl, whisk together the milk, flour, salt, and pepper. Whisk in the eggs, then whisk in the oil. Whisk in the crumbled cheese, then pour mixture into the prepared baking dish.
Bake for 45-50 minutes, until pie is puffed and golden and a toothpick inserted into the center comes out clean. Let cool 10 minutes, then cut into serving portions.
Serves 4-6.
Guidelines: Please keep your comments smart and civil. Don't attack other readers personally, and keep your language decent. Comments that violate these standards, or our privacy statement or visitor's agreement, are subject to being removed and commenters are subject to being banned. To post comments, you must be a registered user on toledoblade.com. To find out more, please visit the FAQ.