VERITAS CORK & CRAFT TO OPEN DOWNTOWN
Commodore Perry storefront being renovated for wine bar
4/22/2014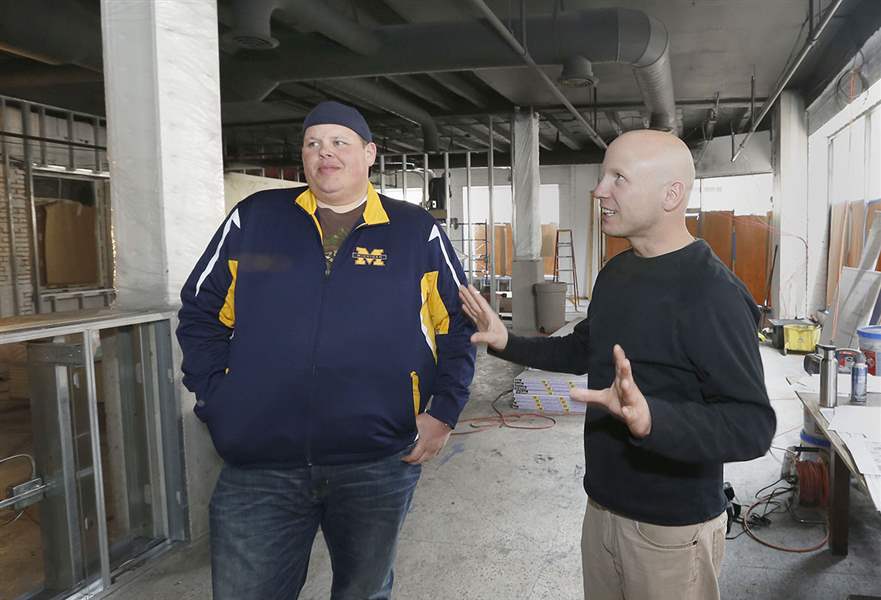 Co-owners Franz Gilis, left, and Nick Kubiak talk about their wine bar that's being built inside the Commodore Perry Apartments building in Toledo. They hope to be open by the end of spring.
THE BLADE/LORI KING
Buy This Image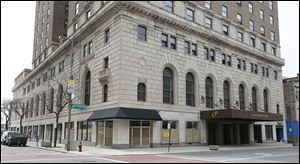 The part­ners say they'll have room for about 80 cus­tom­ers in the 2,300-square-foot space at the Jefferson Avenue establishment.
Renovations are under way in one of downtown Toledo's landmark buildings to transform a hollow, dusty space into a sophisticated wine bar and cocktail lounge.
"Any big city that you go to is going to have a quality wine bar and meeting place like this," Nick Kubiak said. "I think Toledo is ready for it."
Mr. Kubiak, a veteran of the wine industry, is partnering with developer Franz Gilis to open Veritas Cork & Craft in the first floor of the Commodore Perry Apartments on Jefferson Avenue downtown. An official opening date hasn't been set, but the two say their doors will be open before the end of spring.
Several new watering holes have successfully established themselves in downtown Toledo's nascent entertainment district over the past few years, but they've largely been confined to sports bars and pub-style venues.
Rendering of the new Veritas wine bar that is scheduled to open in May, 2014, on the first floor of the Commodore Perry.
With the success of the Valentine Theatre and the growing crop of art galleries — there are now 14 galleries in the downtown area — the men behind Veritas think there's an uncorked market for a quiet, refined place to sip a martini or a glass of merlot.
"It seems really difficult for people who want to get dressed up and go to someplace nice. Your options are limited once you come down here," Mr. Kubiak said.
With Veritas, the plan is somewhere between contemporary and classic. The partners say they'll have room for about 80 customers in the 2,300-square-foot space. They plan to have soft seating, tables, and a granite bar.
They also plan to have a retail section where they'll stock 300-plus bottles of wine and 100 different beers, along with artisan and locally made products such as cheese, olive oil, vinegar, and bread.
Veritas will have a small kitchen, serving small plates and appetizer-style dishes.
"It's the first of its kind, really," Mr. Gilis said. "We'll roll the dice on that and see what happens. But there's a will for it, there's a want."
Though they're trying to create a refined atmosphere, Mr. Gilis said they don't want to create an environment where someone just getting off work in jeans or someone leaving a Mud Hens game feels unwelcome.
Opening a wine bar is something Mr. Kubiak has wanted to do for some time.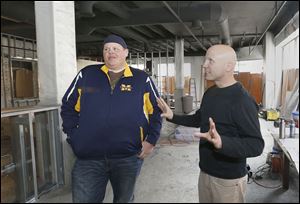 Co-owners Franz Gilis, left, and Nick Kubiak talk about their wine bar that's being built inside the Commodore Perry Apartments building in Toledo. They hope to be open by the end of spring.
Mr. Kubiak got his first serious introduction to wine through a college class, and has now spent most of the last 13 years in the industry, working in retail, wholesale, and importing. He briefly considered giving his own place a go in 2008, but the coming recession forced him to hold off. Now he feels downtown Toledo is at a turning point.
He found a partner in Mr. Gilis, who he has known since high school. Both are 1997 graduates of St. Francis de Sales High School.
"We see all this investment that's going into downtown and it seems like a no-brainer really to come in and put our money where our hearts are," he said. "We're Toledoans, we want to see Toledo grow, and this is the best place to see it happen."
The two are self-funding the project, having invested about $100,000.
The 17-story building opened in 1927 as the Commodore Perry Hotel, one of downtown Toledo's premiere locations. The building featured an ornate dining room and a stunning ballroom decorated with huge murals. Small shops lined the street level. The space that Veritas will occupy was once a pharmacy, Mr. Kubiak said. "People were always in and out of here, people walked around downtown. You look at things today, it's slowly coming around," he said.
He'd like to see more of that energy renewed, envisioning a barber shop, bakery, or maybe an ice cream shop coming in to be their neighbors.
All the other first-floor space in the building is vacant. Mr. Kubiak said developers have toured other available spaces since he signed his lease, but as of yet no one else has signed on.
Dan Shepherd of Monarch Investment paints duct work for the new wine bar. that's under construction inside the Commodore Perry in Toledo.
Representatives with the Commodore Perry didn't return calls seeking comment.
The building is between Fifth Third Field and the Huntington Center, and just down the street from the SeaGate Centre. It also has a connected parking garage.
"I don't know what else you could really want as far as downtown is concerned," Mr. Gilis said.
He and Mr. Kubiak certainly aren't the first people to see potential in the location, though.
A handful bars and nightclubs have come and gone since the Commodore Perry building was renovated and turned into apartments in 1999. Several were trouble spots for authorities.
State liquor control officials said the last liquor license issued at the address was that of Margarita Rocks, which was transferred to a different location in 2009.
Contact Tyrel Linkhorn at tlinkhorn@theblade.com or 419-724-6134 or on Twitter @BladeAutoWriter.